List of angry customers growing against Valley solar company
Posted:
Updated: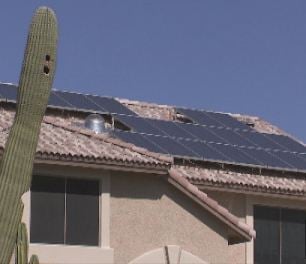 PHOENIX (CBS5) -
Valley consumers are coming forward to complain about the Salt River Solar & Wind Company.
CBS 5 News spoke to almost a dozen customers who all said they are owed thousands of dollars.
John Lohr is a retired U.S. Marine from Mesa, who said that he paid Salt River Solar and Wind company more that $2,600 as a down payment for the panels that were supposed to be installed last summer.
Lohr is still waiting for the solar panels.
"I would prefer the panels," Lohr said. "But if no panels arrive, I would like to have my money back."
Chuck Bartlett of Chandler has the same problem, only Bartlett is out even more money.
He signed a contract with Salt River Solar in October 2011, and paid more than $4,600 as a down payment.
Bartlett said he received a number of letters from the company telling him the panels were coming, but at this point he doesn't believe them.
"Whether it's a Ponzi scheme, or whatever they are doing, it is not right," Bartlett said. "If they are spending our money to answer phones, where did our money go?"
CBS 5 News reached out to Salt River Solar to find what was going on.
A company spokesperson said that the federal government is to blame for their solar contracts not being completed.
CBS 5 News was told the company is owed more than $6 million in federal grants and rebates that were never processed.
The spokesperson said if the feds had followed through, customers would have received their solar panels months ago.
One of the company's co-owners is Dave Baum.
"We don't want to go bankrupt," Baum said. "We want to pay these people. We plan to install their solar panels or give them their money back."
Customers such as Lohr said they've waited long enough.
"It's no way to run a business, that's for sure," Lohr said.
CBS 5 News has also learned that Salt River Solar and Wind has at least 53 complaints with the Arizona Better Business Bureau, earning them an F rating.
The company also had its license revoked by the Arizona Registrar of Contractors.
Copyright 2013 CBS 5 (KPHO Broadcasting Corporation). All rights reserved.
List of angry customers growing against Valley solar company

More>>