UPDATE
Brewer loses appeal over Arizona's day labor rules
Posted:
Updated: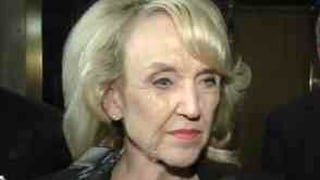 Arizona Gov. Jan Brewer (Source: KPHO-TV)
An appeals court has upheld a ruling that prevents police in Arizona from enforcing part of the state's 2010 immigration enforcement law that prohibited people from blocking traffic when they seek or offer day labor services on streets.

Monday's ruling by the 9th U.S. Circuit Court of Appeals marked a loss for Gov. Jan Brewer.

Brewer had asked the appeals court to rescind a February 2012 decision by a judge who rejected
Brewer's arguments that the rules were needed for traffic safety.

The governor's lawyer say day laborers congregate on roadsides in large groups, flag down vehicles and often swarm those that stop.

Groups that challenged the law argued the day labor rules unconstitutionally restrict the free speech rights of people who want to express their need for work.
"With today's ruling, Arizona's notorious SB 1070 law has suffered yet another major defeat in the courts," said Omar Jadwat, supervising attorney with the American Civil Liberties Union Immigrants' Rights Project.
"While Arizona has been spinning its wheels in a vain attempt to defend its fundamentally unconstitutional anti-immigrant law, the rest of the country has moved on, with legislators coming together across party lines to build a common-sense immigration system that benefits us all," Jadwat said.
The Governor will be conferring with her legal counsel regarding the State's next steps in the case. an office spokesman said.
Copyright 2013 Associated Press. All rights reserved. CBS 5 (KPHO Broadcasting Corporation) contributed to this report.