3-year-old boy pulled from backyard pool in ICU
Posted:
Updated: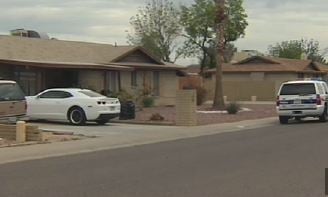 PHOENIX (CBS5) -
A 3-year-old boy is in extremely critical condition after being pulled from a backyard swimming pool Sunday morning, according to Phoenix fire officials.
The fire department was called to the child's family home just before 10 a.m. off of Interstate 17 near Union Hills.
"The family said we just got up, we had breakfast this morning and we lost track of him, they were thinking right around five minutes," said Phoenix fire Capt. Jonathan Jacobs.
It is not clear exactly how long the boy may have been underwater, but crews started CPR as soon as they arrived.
Jacobs said there are French doors that open to the backyard pool and that there are no barriers around the water.
Neighbors watched it all unfold Sunday morning and are pretty shaken up.
"They did have a lot of kids and little boys and they were very nice people, but you know, this is really shocking for us," said neighbor Mariah Graziana.
Fire officials are warning all pool owners to install pool fences and gates as summertime approaches.
The last update from officials is that the child is in ICU at a Valley hospital.
This is the second near child drowning in the Valley this year, according to Jacobs.
Copyright 2013 CBS 5 (KPHO Broadcasting Corporation). All rights reserved.