Hollywood celebrities buying homes in Phoenix area
Posted:
Updated: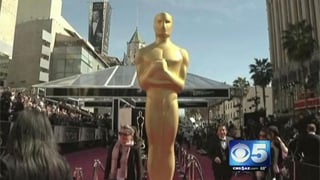 PHOENIX (CBS5) -
There is a lot more star power in Arizona these days.
Big-time celebrities are trading in the glitz and glamour of Hollywood and settling into homes here in the Valley.
"Vince Vaughn was most recently," Luxury realtor Robert Joffe says. "There was a rumor going around that, hey, did he buy a house here? And he has."

Joffe sold Vaughn a huge piece of property and a house in Paradise Valley. He says Vaughn plans to tear down the existing house to build a new home.
Among others, actor Frankie Muniz also lives in the Valley in a home in Arcadia.

"When they realize, hey, we're not just a desert," Joffe says. "We've got great shopping, restaurants, and it's such a laid-back atmosphere. I think that's what's bringing people here, and they're enjoying it."

Arizona has a rich history of being featured in Hollywood films. A lot of that history is on display at the Arizona Museum of Natural History in Mesa.
The museum features movies that have scenes shot in Arizona including Junior Bonner starring Steve McQueen, which filmed in Prescott.

Jeb Rosebrook wrote Junior Bonner. He spent nearly 30 years in Hollywood as a screenwriter. It's a job he still has, but his commute is a bit longer when he is needed in the studio.
"We (he and his wife) began to think. Why don't we try living here and maybe I can try and work from here?" Rosebrook says. "After the 1994 earthquake, the wives felt that Los Angeles wasn't going to be that safe."
That's when Phoenix first showed up on the map as a place where you could get more for your money.

"And housing prices here. You could sell your house in Los Angeles for a lot of money and buy a house here for considerably less," says Rosebrook.

"They come here originally to visit one of the resorts and then they end up buying a home here and making it their place to live," Joffe says.
Other celebrities who have homes in the Valley include actors Dennis Farina and Ricky Schroeder and the author of the Twilight series, Stephanie Meyer.

Copyright 2013 CBS 5 (KPHO Broadcasting Corporation). All rights reserved.