Most Arizona gun laws going nowhere
Posted:
Updated: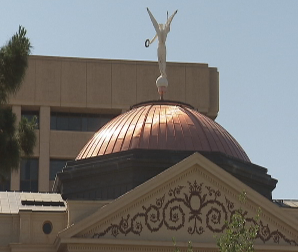 PHOENIX (CBS5) -
There's been a lot of big talk at the State Capitol this year about sweeping gun reform.
But the truth is, most of the bills dealing with gun rights and school safety are going nowhere.
More than two dozen gun-related bills have been introduced at the State Capitol in 2013, in the wake of last December's deadly shooting rampage at a school in Connecticut.
One proposal was made by state attorney general Tom Horne, who put forth a plan to arm teachers.
That idea led to HB 2656, which would allow a designated school staff member to have a gun on campus provided they passed a three-day training period.
That bill is now dead.
House minority leader Chad Campbell (D-Phoenix) has proposed an assortment of gun-related bills, that he insists are common sense.
Everything from reinstating Arizona's concealed weapons permit, requiring background checks on private gun sales and prohibiting the mentally ill from possessing firearms.
He also supports a ban on high-capacity magazine clips.
All of those bills are dead as well.
"I think there are all things that the overwhelming majority of Arizonans support and it's unfortunate we couldn't get them moving down here," said Campbell.
There are, however, a few gun bills with a shot at passing.
State Rep.John Kavanaugh (R-Fountain Hills) is the sponsor of HB 2554, which would force local governments to allow guns in public buildings unless secure gun lockers are provided.
The bill does not apply to schools and colleges.
Kavanaugh also supports SB1325, which would allow rural Arizona schools to authorize a teacher or administrator to have a concealed gun on campus and let retired law enforcement and military personnel carry a gun. as well.
"I'm not going to prevent a school district from providing trained people to protect their children," said Kavanaugh. "It's not my job to stop safety. It's my job to promote safety."
Copyright 2013 CBS 5 (KPHO Broadcasting Corporation). All rights reserved.