Valley grocery shoppers worried about higher meat prices
Posted:
Updated: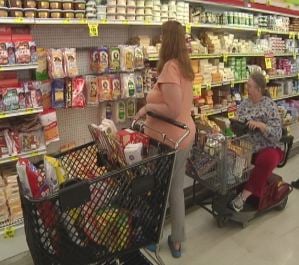 GLENDALE, AZ (CBS5) -
A trip to the grocery store may soon cost a little more.
The latest budget crisis in Washington, called the sequester, is expected to have a direct impact on shoppers across the Valley and around the country.
Maragret Balon of Phoenix said that she can barely afford to make ends meet now.
"It's a big deal to me because I'm on Social Security," said Balon. "I'm on a fixed income."
According to White House estimates, the U.S. Department of Agriculture could face a $2 billion cut this year, that would force thousands of food inspection workers out of work for up to two weeks, slowing down meat and poultry production and driving up prices.
Pat Spring is the owner of the Grocery Outlet in Glendale which caters to lower income families.
He told CBS5 News that with the economy still not fully recovered from the recession, this is the wrong time to ask customers to cough up more cash.
"We hope it doesn't happen, because if costs go up, eventually they have to be passed on to the consumer," said Spring. "With the tight budget that everybody is going through, it would not be a good thing at all."
Shopper Pat Click said the entire budget crisis could have been avoided.
"I think lawmakers dropped the ball," said Click. "They should be compromising and working together instead of grandstanding. I think they let down the American public."
Spring said that he is also worried that small businesses could lose business, if they are forced to raise prices.
Copyright 2013 CBS 5 (Meredith Corporation). All rights reserved.