83-year-old says it's never too late to employ yourself
Posted:
Updated:
Posted by Sean McLaughlin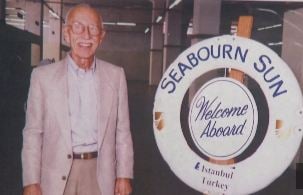 PHOENIX (CBS5) -
Jack Terry has been a dance studio owner, a printer, a lawyer, a restaurant manager, a golf driving range owner, an accountant, a stock broker, has worked in construction, been a time share salesman and finally a male dance host on a cruise ship.
Over the past six decades, entrepreneur Jack Terry has been a lot of things, except one - bored.
"I've had an amazing life and people always told me to write a book, so I finally did it," Terry said in an interview with CBS 5 News. He credits a writing class from Scottsdale Community College and the urging of his friends for finally making his book a reality. Terry has rolled his life's adventures into a new, how-to book titled Employ Yourself Now- Enjoy Yourself Now - 7 Steps to Start and Operate a Business in Less Than 90 Days.
The energetic 83-year-old says he decided now was the perfect time to write the step-by-step handbook regardless of the uncertainty of the economy and the politics in Washington.
"The business climate is certainly different now than at any other time, and I believe my experience in running over 20 different businesses gives me a unique perspective to help people," said Terry.
And the one timeless trait that people need to start their own business in these tough times?
"For me it was always a strong sense of curiosity," Terry said. "A lot of opportunities come by and people let them pass if they are not curious enough to explore their dreams."
People can find Terry's book on his website: http://employ-yourself-now.com/.
Copyright 2013 CBS 5 (KPHO Broadcasting Corporation). All rights reserved.