UPDATE
AZ store owner arrested in 'fencing' operation
Posted:
Updated: March 1, 2013 05:02 PM MST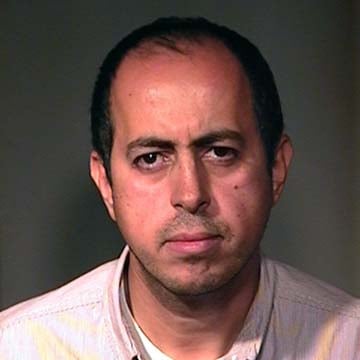 (Source: Chandler Police Dept.) Tarek Labadi, 41
CHANDLER, AZ (CBS5) -
Authorities say they've caught a man who was allegedly buying and selling stolen items out of his Phoenix retail store.
Chandler police spokesman Sgt. Joe Favazzo said Tarek Labadi, 41, was arrested Thursday in a fencing operation for stolen property from his retail store, Leno's Mini Mart, located at 4750 E. Broadway Rd.
Favazzo said Walmart's Global Investigation Department tipped police off to the operation while they were investigating stolen items from their Chandler Sam's Club store near Germann Road and Arizona Avenue. That's when Chandler police detectives stepped in and went undercover at the store.
"The suspect bought these items that were under the control of the police department and then later on we had undercover detectives go back in and actually purchase some of the stuff back," said Favazzo.
Search warrants at Labadi's home and work revealed nearly $50,000 in cash and property as well as five rifles and two handguns.
Detective say Labadi was using his store to buy and sell property including cigarettes, electronics, computers, alcohol, cigars, toiletries, music headphones and televisions.
Police said Labadi could face felony charges for buying and selling stolen property and they anticipate more arrests to be made.
Walmart spokeswoman Dianna Gee released the following statement.
"At first glance this may sound like just a shoplifting case, but in reality, organized retail crime impacts a community's bottom line. When professional thieves steal large amounts of merchandise, they're actually taking away from local governments who rely on the sales of those items to contribute to local tax revenue to support schools, police and fire departments, roads and other projects that help improve the communities in which we live.
"Organized Retail Crime is one of the most damaging and costly issues retailers face today. In an effort to maintain everyday low prices, Walmart dedicates personnel and invests in technology to help identify those who try to break the law. Part of our success in doing that is by forming strategic partnerships with local, state and federal law enforcement agencies in an effort to reduce the impact of these crimes.
"We appreciate the Chandler Police Department for all they do to help keep our associates, customers and the entire community safe."
Copyright 2013 CBS 5 (KPHO Broadcasting Corporation). All rights reserved.
UPDATE

AZ store owner arrested in 'fencing' operation

More>>