Phoenix mayor announces new gun buyback program
Posted:
Updated: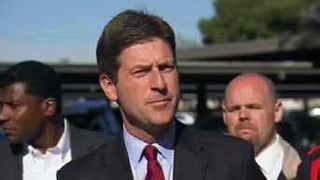 Phoenix Mayor Greg Stanton
PHOENIX (CBS5/AP) -
Phoenix Mayor Greg Stanton has outlined an aggressive plan to combat violence in the city.
During his second State of the City speech Thursday, Stanton took a swipe at Maricopa County Sheriff Joe Arpaio's posse patrols, saying that Phoenix is a "no-nonsense" community.
"We don't need Steven Seagal to keep our kids safe. We need real cops doing real police work in the city of Phoenix," Stanton said.
Stanton vowed to stage what he called the largest gun buyback in Arizona history and double the number of police officers in schools citywide.
He said the buyback program allows residents to drop off unwanted weapons with no questions asked every Saturday during the month of May.
The effort is being funded with $100,000 from the nonprofit Arizonans for Gun Safety, which received the money from an anonymous donor.
Stanton also said Phoenix needs to continue to create high-wage jobs and balance the city budget without gimmicks.
Click here to read Stanton's entire speech.
Copyright 2013 CBS 5 (KPHO Broadcasting Corporation). All rights reserved. The Associated Press contributed to this report.