CBS 5 Advocate
Options for frustrated customers of Salt River Solar & Wind
Posted:
Updated: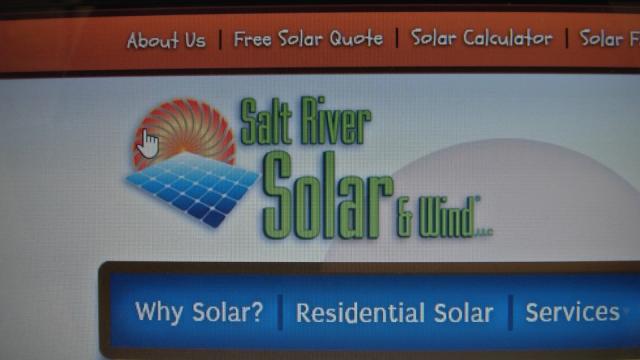 PHOENIX (CBS5) -
Several Valley consumers say a solar installation company took their money but never delivered the goods, and these delivery delays have been dogging this company for years.
Customers say Salt River Solar & Wind continues to give excuse after excuse for failing to get government-grant paperwork approved and failing to get solar panels installed.
Now the company has had its license revoked and several consumers are trying to figure out how to get their money back.
"I wanted solar energy at my house," David Ruble said.
In November 2011, Ruble hired Salt River Solar & Wind to install solar panels on his house. He had to pay $2,500 down on a $7,500 contract. Ruble says Salt River Solar & Wind told him installation would be complete before the summer of 2012 - but that never happened.
"The summer heat came and went, we started contacting, calling them, a lot of times they wouldn't return my phone calls," Ruble said.
Sixteen months later, Ruble is still waiting for his panels and his energy savings. He says Salt River Solar & Wind keeps lamenting the same excuse for the delay.
"The Treasury Department hasn't freed the funds up so they can purchase the panels, so they can install them on our home," Ruble said.
Several other Valley consumers are suffering the same delays at the hands of Salt River Solar & Wind. Now the Registrar of Contractors has revoked its license and the company has notified customers its physical office is closing.
"They're stringing us along, like I've said, they promised me one thing, and they haven't delivered," Ruble said.
In previous discussions with the company, Salt River Solar & Wind has consistently blamed the U.S. Treasury for these problems, but several other Valley solar installers have had success with the same grant program.
"Why are they jerking us around? Why not be totally honest with us from the get-go?" Ruble said.
This has left many customers like Ruble wondering if they can just get their down payments back - and move on.
"I see cash flow going into the business, but no results coming out of the business," Ruble said.
If you're owed money from Salt River Solar & Wind, quick action could get you a refund. If you file a complaint with the Arizona Registrar of Contractors, you may be able to recoup your loss through the State's Recovery Fund. Claims against any one company are limited which means there is only a certain amount of total money available - so act quickly.
As for anyone else considering solar panels, this government grant program is no longer available. APS says the normal process should take no more than 90 days from signing to installation. So after you research and choose a contractor, stipulate in your contract that the deal is off and your deposit is returned if installation isn't completed by a specified date.
Salt River Solar & Wind released a statement saying the government didn't pay them and that is what caused all their problems. They say if the government had lived up to what was promised, all solar projects would have been completed and Salt River Solar & Wind would have had a profit. Salt River Solar & Wind also says it is trying to sell its solar credits and once funding is received, refunds will be given.
We will update this story with any new information regarding refunds.
Copyright 2013 CBS 5 (KPHO Broadcasting Corporation). All rights reserved.