AZ firefighters save hockey player
Posted:
Updated: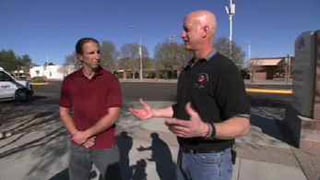 Casa Grande firefighters Pete Benzing and Jonathan Larson.
GILBERT, AZ (CBS5) -
When not on duty, Casa Grande firefighters Pete Benzing and Jonathan Larson enjoy playing organized hockey.
"We like to think we're pretty good hockey players- but we're not," joked Benzing and Larson.
But during their game last Sunday night, teammate Scott Patrick collapsed on the ice during a line change. The team initially thought Patrick twisted a knee or pulled a hamstring until the goalie identified he wasn't moving and shouted out to call 911.
Thankfully, Polar Ice in Gilbert had an automated external defibrillator, or AED, nearby, and the firefighters shocked Patrick back to life.
"We ended up shocking him three times before the fire department got there," said Benzing.
Polar Ice says all three of their Valley facilities are equipped with AED machines, which are easy to use by anyone. A person has a 70 percent chance of survival when an AED is used within the first three minutes following sudden cardiac arrest.
"It saved someone's life and if it works once and that's the only time we use it, great. At least this time it worked and this gentleman is still with us," said Bob Platt with Polar Ice.
The firefighters say they're used to saving lives, but this time was different.
"It was definitely different, it was almost surreal-like. And not having that support or those tools that we have on duty, was key to it. Thankfully, the AED machine was nearby," said Larson.
They also want to underscore the importance of learning basic lifesaving techniques.
"Everybody should know CPR and AED certification. If you don't want to go to the class or don't have time to take the class, you can go on YouTube, you can Google it, there's plenty of information out there to help you," Larson said.
Teammates said that as of Wednesday afternoon, Patrick was up and feeling great as he continues to recover at Scottsdale Osborn.
And because this incident had an effect on the entire "Puckheads" hockey club, the club and Polar Ice in Gilbert are going to host a CPR and AED class in a few weeks.
Copyright 2013
CBS 5
(KPHO Broadcasting Corporation). All rights reserved.