Hand grenade found at Bridgeport City Hall
Posted:
Updated:
By Joseph Wenzel IV, News Editor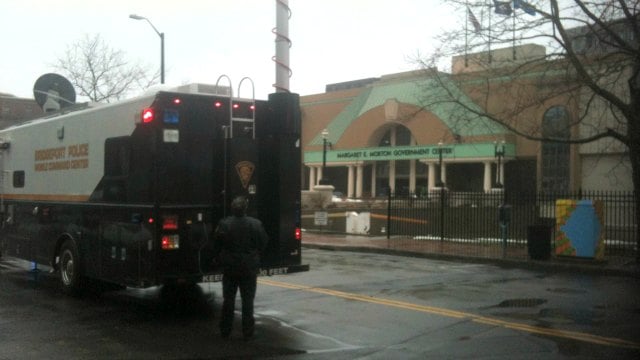 BRIDGEPORT, CT (WFSB) -
Bridgeport City Hall Annex was evacuated Wednesday morning after authorities discovered what appeared to be a hand grenade inside a sealed coffee mug.
According to police, an unknown person handed a to-go cup with the lid on it and asked a man to deliver it to the Office of Internal Affairs at the Margaret E. Morton Government Center on Broad Street.
Around 11 a.m., the item was delivered to the building and when a hand grenade was found inside the cup, police said.
About 250 employees were evacuated from Margaret E. Morton Government Center and the area around the building was closed off for a few hours, while police conducted their investigation.

Officials said the discovery was made before 11 a.m. at 999 Broad St. and the order to evacuate was made a short time later.
The Connecticut State Police Bomb Squad was called to the scene and the grenade was removed from the building.
Detectives interviewed witnesses to determine who the suspect was.

"We are actively investigating this as a criminal act," said Police Chief Joseph L. Gaudett Jr.
Anyone with any information is asked to call the Bridgeport Police Department at 203-581-5201.
Copyright 2013 WFSB (Meredith Corporation). All rights reserved.