Vets help fellow vet receive new motorized wheelchair
Posted:
Updated: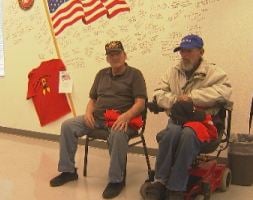 PHOENIX (CBS5) -
U.S. Navy veteran Myron Marquardt used to depend on his manual wheelchair to get him to and from the hospital about a mile from his home. That was until a group of fellow vets came together to help get Marquardt into a motorized chair.
"One of these veterans' moms, her death bead wish was for a veteran to get that scooter, so here it is," said retired U.S. Marine Mory Tait.
"She didn't want to give it away to Goodwill or something like that, and that's what we did," said veteran Harold Hewey, whose mother donated the chair.
Following the donation of the scooter, The Ability Center in north Phoenix not only refurbished the chair, but will provide free maintenance and three years worth of battery replacement for Marquardt.
Chip Stoecker, manager of The Ability Center, said he and his store were happy they could help a deserving vet.
"It's going to help me a lot. To go from my house, to the store, and over to the hospital," said Marquardt.
Marquardt, along with his band of brothers, hope the public will continue to remember our vets and assist them whenever possible.
"I love all the people that take care of our vets," added Marquardt.
If you have a motorized wheelchair or scooter that you'd consider donating to a vet, please contact The Ability Center by clicking here.
Copyright 2013 CBS 5 (KPHO Broadcasting Corporation). All rights reserved.