Animals seized from home in Oxford
Posted:
Updated:
By Joseph Wenzel IV, News Editor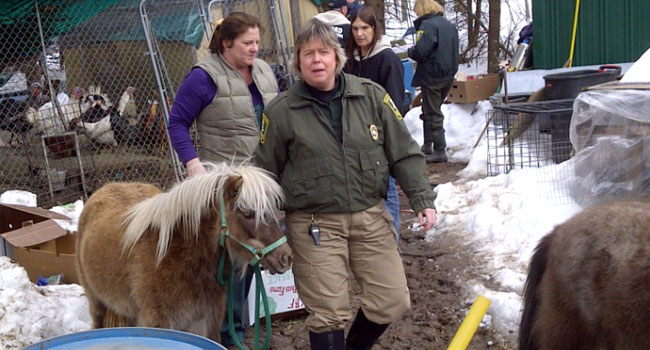 © The following photo was provided by the Connecticut Department of Agriculture.
About 40 animals were seized by Connecticut authorities from a residence in Oxford on Tuesday.
The Connecticut Department of Agriculture along with the Oxford animal control officer started an investigation into a home on 48 Condon Rd. after a complaint of roaming animals.
During the investigation, the state authorities discovered "neglected and malnourished" animals. Authorities were forced to take the following animals from the residence:
Four dogs
One cat
18 chickens
Six turkeys
Six guinea fowl
One goat
One pig
One donkey
One horse
Two miniature horses
The animals are being evaluated by local veterinarians and have been taken to town animal shelters as well as Connecticut Department of Agriculture's large animal rescue facility at Gates Correctional Institution in Niantic.
Since it is an ongoing investigation, none of the animals are available for adoption.
"Neglect and abuse of animals are actions we do not tolerate at the Department of Agriculture," said Commissioner Steven K. Reviczky in a statement Tuesday. "It is essential that these animals receive adequate food, water, and care while we investigate the circumstances that led to these conditions, and take the necessary steps to ensure they do not occur again."
Copyright 2013 WFSB (Meredith Corporation). All rights reserved.