How will medical marijuana work for Connecticut?
Posted:
Updated: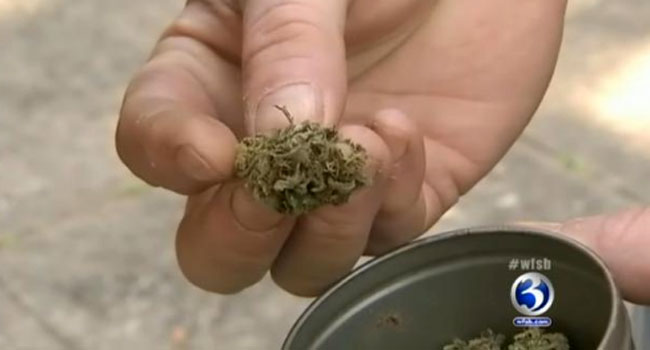 PORTLAND, ME (WFSB) -
It's illegal, according to the federal government, but 19 states are allowing people to smoke pot as medicine. Connecticut is one of those states that allow it, and possibly this year, patients will be able to buy it.
But how will it work? And can some of the problems with theft and abuse be avoided?
Barry Williams gets around, but it isn't easy. He has Parkinson's Disease.
"I describe it to people as trying to walk through sand that's up to your knees," said Williams.
"I would be sitting at my desk and writing, and by the time I got to the end of the sentence, you couldn't make out what the letters were."
He said he takes a number of medications, and recently someone told him that smoking pot could make him feel better.
"It actually was miraculous in the sense that for a period of time, I felt no symptoms from the disease. I felt like a normal person," he said.

Channel 3's Susan Raff asked him if that surprised him at all.

"Yeah," he said. "It's a good feeling."
He was uncomfortable taking the drug because it has always been illegal. But soon, people like Williams will be able to buy marijuana.
"We reviewed all the regulations in all the states, and we have met with producers and drug abuse advocates to learn everything we can," said Department of Consumer Protection Commissioner William Rubenstein.

Connecticut's Department of Consumer Protection is responsible for making medical marijuana available.
They are starting an entire industry from scratch.
Maine has had marijuana dispensaries for nearly four years.
In Portland, you go up to the counter, and there it is. Marijuana in glass jars, in different size packets, and it's not all the same.
They sell five different kinds.
"Are there certain strains that are better for certain types of ailments?" Raff asked.

"Absolutely," said Tori Staples of the Wellness Connection of Maine. "You have your indica dominant strains on this side on the counter. These are really for chronic pain."
In some ways, it looks like a head shop.
There are pipes, rolling papers, vaporizers and tinctures.
"The beneficial part of a tincture is, you don't have to smoke it," Staples said. "It's not harsh like smoking."
To buy anything there, you need a doctor's note, but it can't be called a prescription because the federal government considers this all illegal.
That means insurance companies don't cover any of it.
So does that mean the patients could get busted?
"The Department of Justice has said they have no interest in expending resources in physicians using this product," Rubenstein said.

Some states, particularly California, have had problems with theft and abuse.
"In Maine, we have not had problems that we have seen with pharmacies," said Becky Dekeuster of the Wellness Connection of Maine.
Connecticut will have dispensaries, too, but there will be a difference.
In Connecticut in order to sell medical marijuana, it must be sold by a licensed pharmacist. That's not the case in Maine, but every employee must go through a background check and a drug test.
"We think we are going to have much tighter control on how the product is dispensed and produced," Rubenstein said.

For example, Connecticut will only allow 10 growers. Some states like Colorado have 70.
Security is a huge concern as well.
In Maine, they wear beepers, and if there's a problem, police are called immediately.
Security is not only a concern but part of the regulations. Everyone who comes in has to be identified and in order to get in you have to be buzzed in through the front doors and to the doors of the dispensary.
Jay Bush is a cancer survivor, but chemo and radiation have damaged his body.
"It makes me feel less pain," he said. "I am more able to walk around."
But there is something he doesn't like about smoking marijuana.
"It does affect the mind," he said. "Not enough to where I am not functional, but enough to notice."
"You wouldn't want to take a test or drive?" Raff asked.

"No," he responded. "Not jump right in the car and drive."
In Connecticut, patients with only 11 conditions can get a doctor's note, and they hope to have it in place by the end of the year.
But for people like Williams, it certainly won't cure the disease that's crippling him.
But for those really bad days, Williams said, "I think it's going to be a godsend for a lot of people."
Copyright 2013 WFSB (Meredith Corporation). All rights reserved.