New twist on an ancient sport hits the Valley
Posted:
Updated: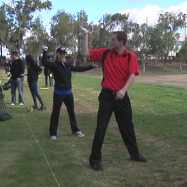 PHOENIX (CBS5) -
A new sport, called CHOT, is making itself known in the Valley. The sport is played at golf courses, but instead of clubs, players use slings. Instead of golf balls, players use golf-like balls, shaped like a football.
Mesa resident Richard Jensen said he loved to spend the day on a golf course but never really loved to golf, so he came up with CHOT.
It combines some aspects of golf with an ancient sport called slinging.
"The first story that comes to people's minds when it comes to slinging is David and Goliath," said Jensen.
The goal is to get the ball into the net.
"You've got your balls and you've got your slings, and they clip to a belt," explained Jensen.
"Then you load the ball perpendicular in the sling," he added.
"You're simply dropping it back and then you flip the sling behind your back. And now you're in this position right here. You throw it and let go," said Jensen.
Jensen said people pick up slinging quickly. They can be slinging 50 or 100 yards in 5 or 10 minutes.
Go to www.chotpro.com to find out when Jensen will be giving free lessons to those who would like to give the sport a try.
Copyright 2013 CBS 5 (KPHO Broadcasting Corporation). All rights reserved.