Commission recommends probation for University of Phoenix
Posted:
Updated: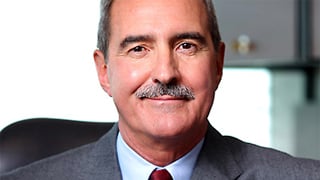 University of Phoenix President Dr. Bill Pepicello (Source: University of Phoenix)
PHOENIX (CBS5) -
The University of Phoenix may be in trouble with their accrediting body.
The president of the college has sent out a message to students saying the Higher Learning Commission recommends the school be placed on probation after a review of how they operate.
He kept the reason vague, saying only the commission found issues with their governance and added they'll get a chance to point out any errors in the commission's report.
Throughout this process, the University of Phoenix will still be accredited.
Here is the text of the letter sent to students from University of Phoenix President Bill Pepicello.
"On Feb. 22, University of Phoenix received the Higher Learning Commission (HLC) draft report outlining its initial findings from the comprehensive evaluation process - a significant milestone in the process to maintain our accreditation. The draft report recognizes the valuable work being done at University of Phoenix in several critical academic and operational areas, as well as the history of innovation and commitment to a diverse student body.
"The draft report also identifies a few areas in which the HLC review team believes that additional work needs to be done - primarily in the area of university governance between Apollo Group and University of Phoenix - to fully meet all of the criteria for accreditation.
"Because of this work, the HLC review team reports that it will recommend that University of Phoenix be placed on probation, a status that indicates conditions exist which places the institution out of compliance on at least one of the accreditation criteria.
"I want to be very clear: University of Phoenix remains accredited by HLC. Even if we were to be placed on probation, the University would remain accredited for the period of probation. In other words, our accreditation as a degree-granting institution has not changed.
"It's important to emphasize that a draft report is one step in a much broader process. Now we will have the opportunity to review the report and identify for HLC those areas we believe to contain errors or misstatements. We intend to actively engage HLC on matters of fact substantive judgment and due process. In the meantime, keep in mind that nothing is final until the full HLC board issues a final action, which is not expected for at least several months.
"University of Phoenix received its initial accreditation from HLC in 1978 and has maintained its accreditation in good standing since then. What's more, in recent years we have taken steps we believe have only served to strengthen our governance model. We have more work to do, and it's already under way.
"We will keep you updated as appropriate, as the reaffirmation process continues. If you have questions, you can call our student hotline at (866) 992-3302."
Stay with cbs5az.com and CBS 5 News for updates on this developing story.
[Text BREAKING to 23765 to get news alerts on your mobile phone]
Copyright 2013 CBS 5 (KPHO Broadcasting Corporation). All rights reserved.