AIA ruling upheld against Centennial High School
Posted:
Updated: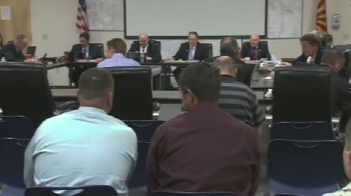 PHOENIX (CBS5) -
It's one of the top high school football programs in the state, but Centennial High School's trip to the state championship this past year was overshadowed by a ruling handed down by the Arizona Interscholastic Association.
It said that the school's head coach, Dick Taylor, violated recruitment policy.
After a five-hour-long hearing on Monday, the board decided to uphold their decision.
Since 2006, the school made it to the state championship four times, including this past season when the team brought home the Division II runner-up trophy. On Monday, all of last season's wins were on the line because of questions surrounding one student.
In December, the AIA ruled that the school made recruitment violations. The board claimed Taylor broke the rules by bringing in an ineligible player. However many say that investigation was far from thorough and the Peoria Unified School District appealed.
"For a student who is enrolled at another campus, when they come to a campus or when they inquire about a campus, they need to be directed to the proper personnel. The person who would indocterate all kids for all tours regardless of if they are athletes or not," said AIA President Art Wagner.
"The coach did have contact with him and when he had contact with him he did have a house within district boundaries which would indicate there is no violation," said Peoria Unified School District spokeswoman Danielle Airey.
So far no punishment has been handed down. The board will meet again to discuss this matter March 18.
Copyright 2013 CBS 5 (KPHO Broadcasting Corporation). All rights reserved.