Safety fence keeps race fans protected at PIR
Posted:
Updated: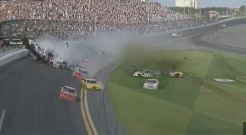 Saturday crash at Daytona
AVONDALE, AZ (CBS5) -
Following the spectacular crash at Daytona this past weekend where dozens of fans were injured in the grandstands, the question being asked is, could that happen here at Phoenix International Raceway?
Experts say a bad crash with spectator injuries could happen at any track, but it would be less likely at PIR, considering that the track is 1 1/2 miles shorter in length and average speeds are roughly 35 mph less than Daytona.
And although there were injuries in Daytona, the safety fence surrounding the track did exactly what it was supposed to do.
"The fence absolutely saved lives, as it always does," said Steve Adelman, a local venue safety expert.
The fence is 22 feet in height with a 4 foot overhang over the track, and the race cars themselves have "downforce slots" on the roof.
"Even if a car does become airborne, everything works together to bring it back down to the ground, on the track," added Adelman.
Such was the case in Talledega a few years back when the entire 99 car wound up on the fence. What was unusual about the circumstance in Daytona was that pieces of a car, actually entered the grandstands.
"My message to fans looking towards race weekend at PIR is go, just don't stand right up next to the fence which you're not supposed to anyway, and enjoy the race," Adelman said.
Copyright 2013 CBS 5 (KPHO Broadcasting Corporation). All rights reserved.