Teens crash into block wall in Ahwatukee
Posted:
Updated: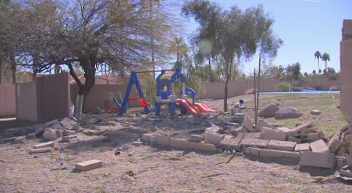 © CBS 5
AHWATUKEE, AZ (CBS5) -
Police are investigating after three high schoolers who allegedly spent the morning drinking off campus plowed a car through a block wall in an Ahwatukee neighborhood.
The cinder block wall lines Gina Wagner's backyard. She said 30 feet of it came tumbling down just after 11:30 a.m. Monday.
"We heard screeching tires and then I heard the sound ... I mean it sounded like a dump truck that maybe was dumping its entire load," Wagner said.
Wagner said she found three teens climbing out of a convertible BMW in her backyard. Police told her the teens had been drinking at the mountain preserve up the street.
They were allegedly speeding through her neighborhood and hit a small retaining wall of one home before careening out of control and slamming into the wall.
Wagner told us the driver was arrested at the scene for DUI but none of the teens were hurt.
She was horrified to think what could have happened to her own children who would have been playing a few feet away.
"We had just gotten home from school and I was getting ready to let my kids go outside to play, so they would have potentially been right here. They could have been killed. And we had friends coming over so it could have been several kids that were injured or killed," Wagner said.
The Tempe Union High School District said the two boys and one girl are from Mountain Point High School where AIMS testing is going on. The teens didn't have to be at school Monday until 1 p.m.
Copyright 2013 CBS 5 (KPHO Broadcasting Corporation). All rights reserved.