Remains of prehistoric homes now open to public
Posted:
Updated: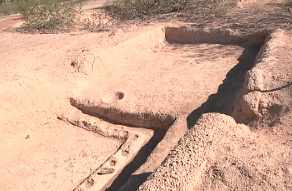 PHOENIX (CBS5) -
The United States, especially the West, isn't known for having a lot of history, but now people across the Valley can experience some ancient history in Mesa.
The Mesa Grande Cultural Park is now open to the public. It shows the remains of prehistoric homes.
The homes were built around 1000 A.D., according to archeologists.
They were built by a group called the Hohokam. Visitors can still recognize a front entry way, a back exit and a hearth, where it's believed the people would put charcoal to keep their house warm.
Archeologists believe the back exit leads to a maze of rooms that were used for ritual purposes.
"The Hohokam would build one of these houses and use it for 50 to 100 years and then abandon it, fill it in and build a new house over the top," said Dr. Jerry Howard, curator of Anthropology at the Arizona Museum of Natural History.
Houses had a short life span because they were made of adobe-like material.
When the houses couldn't hold up any longer, the Hohokam would build another room on top of the pre-existing one.
"One project, we started taking all of that apart to see what everything looked like at one time period, and suddenly we realized that the villages were highly organized. There were residential areas, trash areas," said Howard.
Adults can take a tour for $5 , kids for $2.
Howard said they plan on unearthing more of these rooms in the future. Visitors can observe or even volunteer to take part.
Copyright 2013 CBS 5 (KPHO Broadcasting Corporation). All rights reserved.