Gov. Brewer in Washington, attends White House events
Posted:
Updated: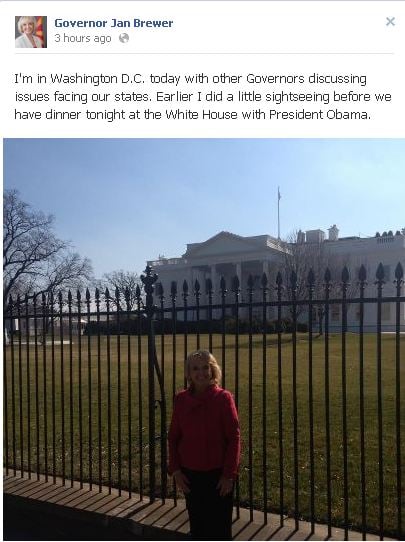 WASHINGTON (CBS5) -
Gov. Jan Brewer is in Washington for the winter meeting of the National Governor's Association.
Brewer posted a picture of herself in front of the White House on Facebook Sunday morning. In her post she wrote:

"I'm in Washington D.C. today with other Governors discussing issues facing our states. Earlier I did a little sightseeing before we have dinner tonight at the White House with President Obama."
One pressing issue on the minds of the nation's governors is the impact of looming government spending cuts known as sequestration.

Brewer was a guest on the CBS political program Face the Nation Sunday morning and was asked about the cuts.
"We still don't know exactly what the impacts are going to be, so we have been looking very diligently into our agencies about where and how we can cut," said Brewer. "It's about a $140 million cut, according to what's been presented and what we know today."
According to the National Governor's Association website:
"On Sunday evening, governors and their spouses will join the President and Mrs. Obama at the White House. On Monday, governors will return for a meeting with the President and Vice President.
"Prior to Monday's meeting at the White House, governors will meet in a closing session to consider the NGA policy positions. They also will hear from Dr. Mehmet Oz, host of the The Dr. Oz Show. Throughout the meeting, there also will be 'Governors-Only' sessions to provide governors the opportunity for discussion among themselves."
Copyright 2013 CBS 5 (KPHO Broadcasting Corporation). All rights reserved.