Home Runs, Freshmen Arms Push No. 22 ASU Baseball past Tennessee, 5-1
Posted:
Updated: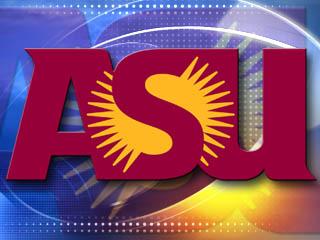 © cbs 5
PHOENIX (CBS5) -
A pair of two-run homers and eight nearly flawless innings of pitching led the 22nd-ranked Arizona State University baseball team to a 5-1 series finale win over Tennessee on Sunday afternoon at Lindsey Nelson Stadium in Knoxville, Tenn.
The Sun Devils (4-2) won their second series of the season and have now won 14 consecutive series in February, including all eight under head coach Tim Esmay.
Outfielders James McDonald and Trever Allen each hit a two-run homer over the left-field fence in consecutive innings to give the Sun Devils a three-run advantage after five frames.
ASU starting left-hander Ryan Kellogg (2-0) surrendered a leadoff single and a two-out RBI knock in the first inning as the Volunteers took an early 1-0 lead, but he went on to retire 12 of the next 14 batters before he was replaced in the sixth inning.
Kellogg, in his first career start, earned his second win of the season as he registered a career-high six strikeouts and allowed just one run on three hits and no walks in five innings.
Allen put ASU ahead 2-1 in the top of the fourth inning after he battled through a 10-pitch at-bat to drive home catcher Max Rossiter, who started the inning off with double down the line.
McDonald fought a nine-pitch at-bat in the fifth inning after a single by center fielder Kasey Coffman to extend the Devils' lead, 4-1.
Allen scored from third base on a wild pitch for the second consecutive game in the sixth inning to make it 5-1 in favor of ASU. He hit a leadoff single, stole second and moved to third on a fly ball.
Freshman right-hander Ryan Burr took the mound in the bottom of the sixth and scattered two hits across threw three scoreless innings. Left-hander Matt Dunbar closed out the series in the ninth with two strikeouts.
UT starting left-hander Andy Cox (1-1) conceded four runs on six hits in 4 1/3 innings to take his first loss of the season.
Up Next:
The Sun Devils head to Surprise, Ariz., for the 11th annual Coca-Cola Classic at Surprise Stadium. The Sun Devils will play preseason No. 1 Arkansas twice on Feb. 28 and March 2, respectively, and will also face Pacific on March 1 and Gonzaga on March 3. All four games for the Sun Devils will follow a Major League Spring Training game and will begin at approximately 4 p.m. (MT) or 50 minutes after the conclusion of the preceding Spring Training game.
Game Notes:
The Sun Devils improved to 13-2 all-time against the Volunteers and 37-22-1 all-time against the SEC...Allen led the Devils with five RBI, two home runs and four runs scored over the weekend...freshman Jordan Aboites made his first career start at shortstop and redshirt sophomore Tucker Esmay made his first start of the season at second base... Allen registered his second multi-hit game and third multi-RBI game of the season....ASU pitchers combined to strike out 29 batters over the weekend.
Copyright 2013 CBS 5 (Meredith Corporation). All rights reserved.