No. 3 ASU Softball walks off with 6-5 win over Portland State
Posted:
Updated: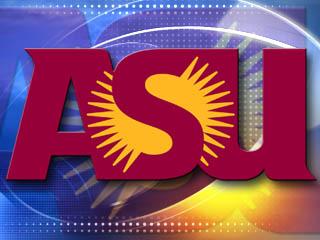 © cbs 5
PHOENIX (CBS5) -
In 12 innings, Arizona State softball (13-0) began its four-game series against Portland State (4-8) with a marathon 6-5 win on Friday. The 1,049 fans in attendance for the 3 hour 45 minute victory witnessed ASU's longest game by innings since 2008.
Elizabeth Caporuscio went 4-for-4 at the plate, a career best, and added two walks. Dallas Escobedo went the distance for her ninth win of the year, tallying a career best 19 strikeouts in her longest outing as a Sun Devil. ASU picked up the win in the bottom of the 12th on a walk-off single by Lucy Aubrecht that scored pinch runner Abby Spiel.
The Sun Devils will honor the annual Strikeout Cancer games on Saturday, wearing pink jerseys. Sparky's Team Shop, located at the entrance of Farrington Stadium, will sell pink Sun Devil shirts throughout the weekend. Prices start at $18.
ASU SCHEDULE PAGE | TICKETS
Saturday vs. Portland State 4:30 p.m. | Live Stats | Blaze Radio
Saturday vs. Portland State 7 p.m. | Live Stats | Blaze Radio
Sunday vs. Portland State 12 p.m. | Live Stats | Blaze Radio
Notes
The longest game by innings prior to Friday's was a 13-inning victory at Stanford on March 30, 2008. ASU won the game 3-0. This is ASU's first extra-inning game in 2013.
Dallas Escobedo recorded her 70th win of her career during Friday's victory. This was Escobedo's fifth game this season with double-digit strikeouts (19).
Elizabeth Caporuscio moves up in the career records for home runs, now with 18 which is good to tie for 13th. She also rewrote her career best in hits in a game, roping four singles in six at-bats.
Copyright 2013 CBS 5 (Meredith Corporation). All rights reserved.