Williams, Allen Carry No. 22 Baseball To 4-0 Win At Tennessee
Posted:
Updated: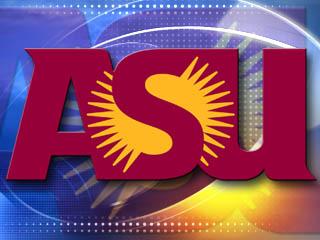 © cbs 5
PHOENIX (CBS5) -
Trever Allen's three-run homer and Trevor Williams' eight strikeouts carried the 22nd-ranked Arizona State University baseball team to a 4-0 win over Tennessee on Friday night at Lindsey Nelson Stadium in Knoxville, Tenn.
Starting right-hander Williams pitched seven scoreless innings and allowed just one walk to go with his eight strikeouts, just one short of his career high.
Right fielder Trever Allen gave the Sun Devils a 4-0 advantage with a three-run homer in the top of the fifth inning. A single by third baseman Michael Benjamin and a walk by center fielder Kasey Coffman set up Allen's shot over the left field fence for his fourth career home run.
Freshman left-hander Brett Lilek took the mound in the eighth inning and promptly struck out the side, but three walks in the bottom of the ninth loaded the bases with two outs for the Volunteers (1-4). Lilek then induced a groundout to first base to seal the road victory.
The Sun Devils started things off in the top of the second inning with an RBI single by designated hitter Nate Causey to take a 1-0 lead. Catcher Max Rossiterknocked a first-pitch base hit up the middle and stole second to move into scoring position.
A leadoff walk and a single by UT in the bottom of the fourth frame put runners at first and third with one out, but an attempted double steal by the Volunteers was thwarted by second basemanJames McDonald, who threw A.J. Simcox out at home, to help ASU escape a jam.
Tennessee starter Zack Godley (0-1) took his first loss of the season after giving up four runs on four hits in seven innings. He struck out nine and walked four.
Up Next:
The Sun Devils return to Lindsey Nelson Stadium on Saturday for game two against Tennessee. First pitch is at 11 a.m. (MT) start time. Follow the team on Twitter at @ASU_Baseball for live scoring and updates from the weekend, and check thesundevils.com for stats, notes and more.
Game Notes: Williams' eight strikeouts are the second most in a single game in his career...the Sun Devils committed no errors for the first time since May 13, 2012, at Gonzaga... the Sun Devils shut out an opponent for the first time since April 28, 2012, against Washington...Causey registered his first RBI of the season...Williams had thrown just six balls prior to his only walk in the bottom of the fourth inning...Allen hit his first home run of the season and now has four career homers...Rossiter stole his second base of the season.
Copyright 2013 CBS 5 (Meredith Corporation). All rights reserved.