Dash cam captures Valley road rage
Posted:
Updated: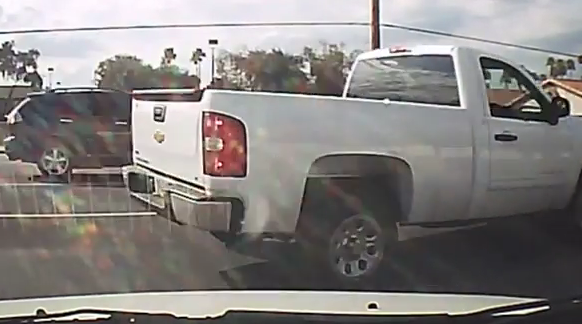 TEMPE, AZ (CBS5) -
It's one of the hottest new videos on YouTube, showing a Valley driver who went out of his way to make a point, nearly causing an accident.
The target of this road rage was "Bob" from Tempe, who didn't want to use his real name.
"It's like he expected me to get out of my car and fight him or something, which I would never do," said Bob.
Bob told CBS5 News he was leaving a grocery store parking lot at Southern Avenue and Rural Road in Tempe, when he inadvertently turned in front of a white pickup truck that was racing by.
The next thing he knew, someone in the truck threw a drink at him and the Chevy Silverado stopped in front of him.
A few moments later, the truck would swerve from lane-to-lane, so Bob had nowhere to go.
Then all of a sudden, the truck slammed on the brakes.
"After I pulled off to the side, I was afraid he had a gun," said Bob. "I hear about road rage incidents with guns, even in the Valley. It was really clear he had something to prove. I don't know, maybe he was having a bad day, but he was aggressive. There's no doubt about that."
Bob caught the entire incident on video thanks to the dash camera in his car that his dad gave him for Christmas.
Bob said that he was relieved things didn't escalate, but if they did, he would have captured it all on video.
Dashcams are gaining in popularity. Shoppers can buy one online for less than $30.
Some of that incredible video from the meteor strike in Russia last week was captured on dash cameras.
Bob said that if angry drivers knew other motorists had cameras in their cars, there might not be as many confrontations.
"I think everyone should buy a dash cam so people would be more polite and there would be less road rage."
To see the entire video visit https://www.youtube.com/watch​?v=U6F8w0Y4hj0
Copyright 2013 CBS 5 (KPHO Broadcasting Corporation). All rights reserved.