Timeline of events in Vegas Strip shooting, wreck
Posted:
Updated: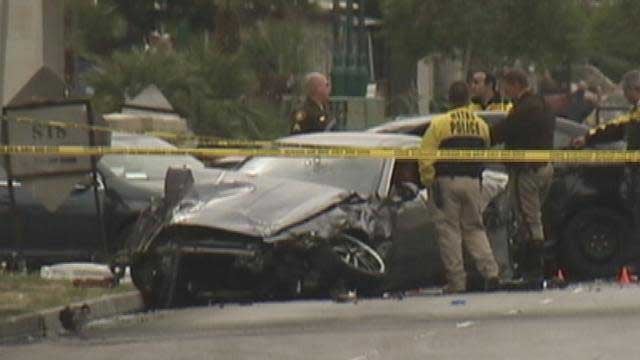 Police search a wrecked Maserati that was involved in the early morning crash on Feb. 21, 2013.
LAS VEGAS (FOX5) -
Police believe an altercation at a Las Vegas Strip hotel valet area prompted a car-to-car shooting and subsequent fiery wreck that killed three people on Feb. 21, 2013. The early morning incident led to a multi-state search for a suspect vehicle and an unprecedented 15-hour closure of the bustling Las Vegas Strip.
Here is a timeline of events on Thursday's shooting and fiery crash:
Before 4:20 a.m., Thursday: An altercation occurs at the valet area of Aria Hotel and Casino on the Las Vegas Strip. Las Vegas Metro police say two vehicles – a Maserati and a Range Rover - leave the property, with gunfire being shot from the SUV to the sports car.
About 4:20 a.m.: Police report the Maserati was involved in crash at Las Vegas Boulevard and Flamingo Road. The vehicle collides with a taxi cab, bursting in flames. Police say drivers of Maserati and taxi, as well as a passenger in the cab were killed.
Police preliminary said the Maserati driver died as a result of the shooting.
Police also shut down the intersection, as well as the on and off ramps at Flamingo Road at Interstate 15. The closure restricts access to the usually bustling Strip area.
7:19 a.m.: Metro releases suspect vehicle description: a black Range Rover SUV with black rims, dark-tinted windows and temporary paper license plates. Police said several black men were inside the vehicle.
Before 8 a.m.: The passenger of the Maserati, who was not immediately identified, is released from the hospital.
8 p.m.: After about 15 hours closed, Las Vegas Boulevard reopens to traffic and pedestrians.
Friday: Clark County Coroner's office identifies the driver killed in the Maserati as 27-year-old Kenneth Wayne Cherry, Jr.

Copyright 2013 KVVU (KVVU Broadcasting Corporation). All rights reserved.