Pay It Forward
Friends of Enfield man paralyzed in accident get money for new bed
Posted:
Updated: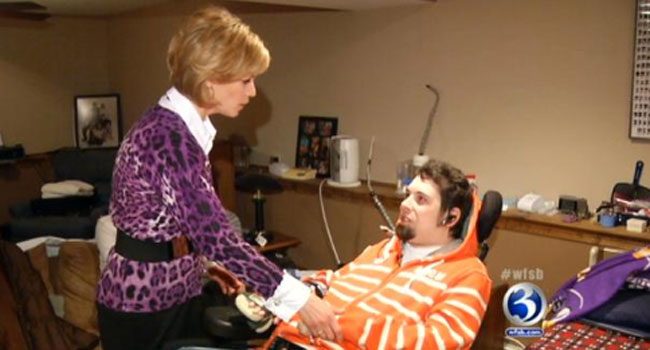 ENFIELD, CT (WFSB) -
A young man from Enfield has not had it easy over the last 10 years and one specific need of his prompted some of his friends to contact Eyewitness News.
In 2004, Matthew Hayward was an "athletic and outgoing" teenager, who played on the Enfield High School soccer and was a member of the volunteer fire department in town. He was working in construction, playing in a band and a good student.
"We all just hung out with the same people, came together and we were all just like a big family for a long time," said Kimberly Bailey. "We did everything together."
However, it was all taken away after a car crash that year near the Basketball Hall of Fame in Springfield, MA. Hayward was thrown from the car during the crash and is now quadriplegic.
After spending three years in a hospital, Hayward has returned home and has learned that his insurance company will not cover all his expenses.
"Everybody is struggling with money, but he really, really needs a bed," said Bailey, who informed WFSB that a specialized bed costs nearly $8,000.

Kimberly Bailey and her cousin Melissa Bailey learned about Channel 3 Eyewitness News series Pay It Forward where each week we give a viewer $500. That viewer has just 60 minutes to give the money away to someone who needs a little boost in life.
"He deserves something comfortable and he deserves the bed that he needs with the support that he needs," Melissa Bailey said.
The judges of Pay It Forward decided to select Kim Bailey and once she received the money, they went to Hayward's house.
"We're here on a little visit, but we also have a surprise for you," Melissa Bailey said.
Hayward was overwhelmed by the gift.
"It means a lot. First of all, for them to even do it for me," he said. "Because, the situation I'm in isn't really a good situation."
Hayward said he is quadriplegic, which means he is paralyzed from the upper chest down.
He cannot move around in his bed, but the specialized mattress helps stop bed sores.
"The air circulates through about 20 different chambers of the mattress and then relieves pressure throughout the night in different parts of my body," Hayward said. "Therefore, in sense preventing bed sores. And obviously bed sores break down, as any type of impalement to my skin, is quite detrimental to my situation."
Hayward has seen slight improvements since the accident. He now has some minimal movement in his right shoulder and has limited mobility in his left arm.
"Will and determination" as well as physical therapy were created with improving his condition.
"Just the attitude of wanting it to happen, I guess," said Hayward, who would like to be a motivational speaker.
Hayward is trying to get into a school for accounting and someday work as an accountant.
"So, I can do something with my mind," he said.
To donate to Hayward, click the following link.
People can send letters and cards to following address:
Matthew Hayward
50 Post Road
Enfield, CT 06082
Copyright 2013 WFSB (Meredith Corporation). All rights reserved.