CBS 5 Advocate
Allegations against The Scooter Store may impact consumers
Posted:
Updated: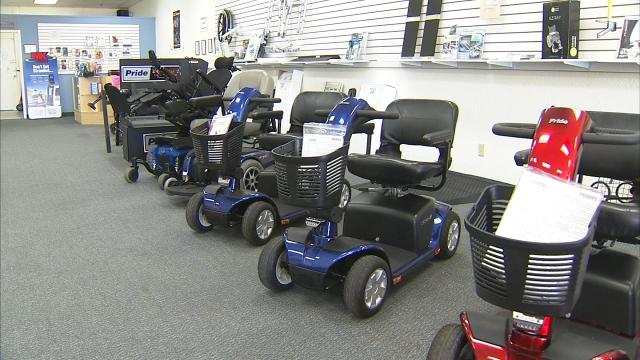 SCOTTSDALE, AZ (CBS5) -
If you qualify for a power wheelchair, you should be able to get it at little or no cost. But there are many steps in the qualification process.
If The Scooter Store is putting seniors in costly equipment they don't need, as critics say, that can lead to false expectations for consumers.
Valley businessman Mark Farmer has owned Southwest Mobility for decades. He says the way his competitor, The Scooter Store, operates can cause confusion for people considering power wheelchairs.
"They look at the ads, they hear free, when seniors hear free they like that, when in fact there's a lot of qualifying that has to go on," Farmer said.
Farmer says consumers can only get a free power chair if their doctor first rules out a number of less-costly alternatives. He says The Scooter Store doesn't always spell that out.
"You're being led to believe something. When you take that packet to your doctor, to get the equipment that's needed, the doctor is going to fill out the truth," Farmer said.
Farmer says a doctor must prove that you can't get by with a cane, a walker or a manual wheelchair before he/she can sign off on something bigger. He says ads for The Scooter Store make the process of getting past these other hurdles seem like a piece of cake, but it's not.
"You have to qualify for this use of a power wheelchair or scooter inside your home to qualify by Medicare standards," Farmer said.
Farmer is also the president of the Arizona Medical Equipment Suppliers Association. He hopes the video of federal and state agents ordering The Scooter Store workers out of the company's corporate headquarters in Texas won't reflect negatively on the mobility industry as a whole.
"We truly don't want this incident to be a black eye on the whole industry, there are good quality providers out there," Farmer said.
The most important thing immobile seniors need to know is that it may take minutes to find out you don't qualify for a power chair - but it will take quite a bit longer to determine if you do.
And when you see any ads for "free" wheelchairs, know there's a good chance that only applies to a small percentage of people.
Copyright 2013 CBS 5 (KPHO Broadcasting Corporation). All rights reserved.