Survivor of Station nightclub fire opens up about her experience
Posted:
Updated: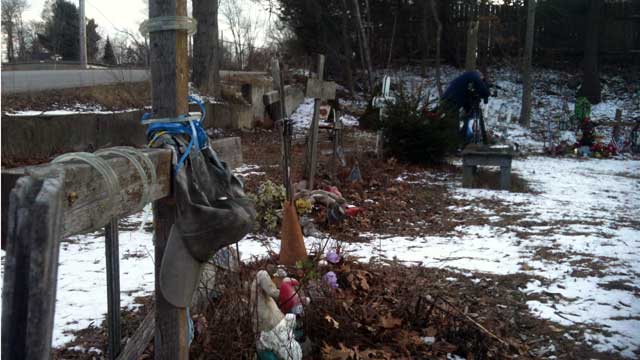 WEST WARWICK, RI (WFSB) -
Ten years ago Wednesday night, 100 people, including four from Connecticut, were killed when a fast-moving fire broke out inside the Station nightclub in West Warwick, RI.
Personal memorials still mark the site where loved ones were lost a decade ago. Many of the survivors and families of those who died are still angry and unable to discuss what took place, while others said they have found peace and have moved on.
Nancy Noyes, of Columbia, said her life is different these days. She has since gotten married and doesn't look back on that horrific night which left her badly scarred.
New London Bureau Chief Kevin Hogan, the first local reporter to arrive at the scene, asked Noyes if time heals wounds.
"For me it did," she responded. "Except for my hand wounds. You have to go on. You don't have a choice really."
Noyes was up close to the stage that fateful night.
The band Great White was the featured entertainment, and when they began to play, pyrotechnics exploded and ignited flammable polyurethane, sound-deadening foam that covered the stage walls and ceiling.
"I don't remember how I got out," she said. "I may have passed out from the smoke, but the next thing I know I'm in the parking lot holding up my hands about to pass out. I kept trying not to fall down on the ground and someone took me across the street. I passed out and woke up three weeks later in a Rhode Island hospital."
Many like Noyes escaped, but 100 others did not. Most of their bodies were found near the front door.
Eerily, just last month a nightclub fire in Brazil left more than 230 dead.
Fire safety experts found similar circumstances to the Rhode Island fire - overcrowding, inadequate building exits, indoor pyrotechnics and flammable wall finish.
The scene was a painful reminder of what The Station nightclub victims experienced.
"I teared up," Noyes said. "I felt bad for the people who were burned because they had to go to the hospital."
Like many of the victims, Noyes had to endure years of therapy and countless surgeries.
While she and the other injured victims recovered, New London attorney Robert Reardon represented those from Connecticut and the families of the dead.
He mounted a huge 540-page lawsuit involving 50 different individuals and corporations resulting in a $176 million settlement.
"The case not only left its mark on the state of Rhode Island, Connecticut and Massachusetts, where the victims came from, but it left its mark on the United States," Reardon said.
Changes were made in fire safety laws and codes at nightclubs and other similar venues in Connecticut and elsewhere.
Noyes said it's one of the positive outcomes from one of the worst fires in United States history.
"With the settlement we were able to buy a house and fix it up and rent it," Noyes said. "So we have some income and that really helps us a lot."
What also helps, Noyes said, are her personal items that were recovered from the scene of the fire by forensic investigators, like a charred photo of her with Gene Simmons.
One day, Noyes hopes to finish writing a book about her experience. She said she started it while recovering in the hospital and shared some of it Wednesday for the first time:
I always assumed I passed out and someone pulled me out. The last thing I remember inside was blackness and heat. I don't remember choking. I don't remember panic. I don't remember being crushed by a desperate crowd. I don't remember any screaming or even the constant pitch of the fire alarm.
"My life has moved on and I met the love of my life," she said.
As time heals the wounds of many, it also ages the memorials that stand at the site of The Station nightclub.
On Wednesday, the town of West Warwick continues to debate whether or not to keep a permanent memorial at the site, or nearby.
Copyright 2013 WFSB (Meredith Corporation). All rights reserved.