Tempe coffee house quits Wi-Fi to encourage conversation
Posted:
Updated: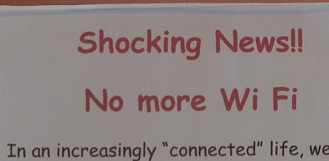 Every morning, people rush to check their email, Facebook or Twitter account.
It seems the goal is to become more connected, but a coffee shop in Tempe is doing just the opposite.
About a month ago, the owner of Steve's Espresso, Steven Schmidt, disconnected the shop's Wi-Fi.
Schmidt wanted his customers to talk more and text less.
"When you come in the morning during rush hour and you get a cup of coffee, you don't really want to go by a really quiet place... with no music...with six people on computers studying. It's not a festive way to start your morning," said Schmidt.
When Schmidt posted signs that said, "Shocking News... No More Wi-Fi, " the reaction was mixed.
"A lot of our best customers were mortified that we're going to go out of business," said Schmidt.
"I was really surprised. I mean everywhere has Wi-Fi, and he took it away," said Stephanie Dewilkins.
She added, "more people are actually talking to each other."
Although people can still use their own data plans, Schmidt hopes the message gets across that it's always nice to have your cup of joe unplugged, even if it's just for a couple of minutes.
Copyright 2013
CBS 5
(KPHO Broadcasting Corporation). All rights reserved.