2 AZ hikers survived 16-degree cold at 11,750 feet
Posted:
Updated: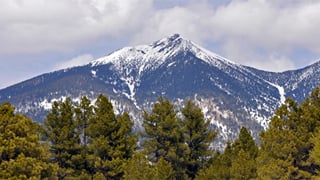 San Francisco Peaks (Source: USDA Forest Service)
FLAGSTAFF, AZ (CBS5) -
Two college students who got lost after climbing the tallest mountain in Arizona endured 16-degree cold, deep snow and strong winds for six hours before they could be rescued.
Nicholas Brown, 19, and Christopher Cuellar, 21, students at Northern Arizona University, survived the ordeal thanks to survival bags dropped by an Arizona Department of Public Safety helicopter. Neither had sufficient clothing or equipment for the hike and the conditions, according to Coconino County Sheriff's spokesman Gerald Blair.
The pair had started their hike at about 9 a.m. Sunday at the Arizona Snowbowl. They reached the summit of Humphreys Peak at around 3 p.m.
During their descent, they battled strong winds and intentionally left the Ridge Trail in an attempt to take a shortcut back to Snowbowl. They had hiked down into an area known as the Allison Clay avalanche chute, where they encountered deep snow and became disoriented, Blair said.
The men were wearing light clothing and carried a cell phone, some matches and a flashlight. Brown and Cuellar were able to make cell phone contact with the 911 center.
Coconino County Sheriff's Office Search and Rescue Unit began attempts to locate the hikers' position. The DPS helicopter from Kingman was able to get a location on the hikers just before nightfall, but because of steep terrain and winds, the aircraft could not land.
Search and rescue had prepared survival bags of warm clothing, sleeping bags and some food and water. The DPS helicopter crew was able to fly the survival bags back up the mountain and drop the bags for Brown and Cuellar. Temperatures at the time were in the mid-teens, Blair said.
Arizona Snowbowl employees pitched in, using their snow cats to transport searchers and equipment up the mountain. Searchers made the 1 1/2-mile traverse, reaching Brown and Cuellar around 10:30 p.m. at an elevation of 11,750 feet, Blair said.
Searchers were able to walk Brown and Cuellar back out to waiting Snowbowl snow cats. The hikers were in fairly good medical condition and refused medical treatment, Blair said.
Humphreys Peak, at 12,637 feet, is the highest of a group of extinct volcanic peaks known as the San Francisco Peaks, about 10 miles north of Flagstaff.
Copyright 2013 CBS 5 (KPHO Broadcasting Corporation). All rights reserved.