Tempe PD: Lost ASU mountain hiker found
Posted:
Updated: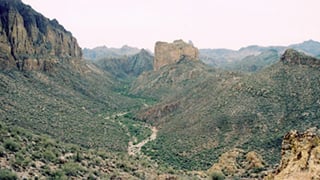 Superstition Mountains
TEMPE, AZ (CBS5) -
The search for a missing Arizona State University lost in the Superstition Mountains is over.
Tempe Police Sgt. Michael Pooley said Michael Kmit, 21, was found after a daylong search in the mountains. He was found without food and water and with minor injuries.
Kmit, who is from Minnesota, was last seen Saturday, Pinal County Sheriff's Office spokesperson Tim Gaffney said.
At about 4:30 a.m. Sunday, Tempe police reported him missing. Officers provided descriptions of his vehicle, equipment and gear.
Kmit was believed to be wearing a short-sleeved shirt and blue jeans.
PCSO patrol units located a vehicle matching the description near the Peralta Trailhead on Sunday morning, Pinal County Sheriff's Spokesman Tim Gaffney said.
Search and rescue teams were contacted. The Maricopa County Sheriff's Office was instructed to search from First Water Trailhead toward Peralta.
An Arizona Department of Public Safety air unit was also requested to help search for the man.
Stay with cbs5az.com and CBS 5 News for updates on this developing story.
[Text BREAKING to 23765 to get news alerts on your mobile phone]
Copyright 2013 CBS 5 (KPHO Broadcasting Corporation). All rights reserved.