Phoenix woman recalls horror of being kidnapped
Posted:
Updated: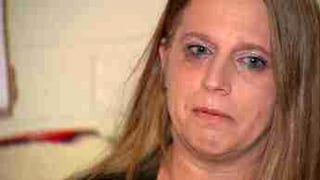 Kimberly Reid
PHOENIX (CBS5) -
Nov. 28, 2011, is a day Kimberly Reid says changed her life forever.
An acquaintance she'd accused of stealing her laptop computer lured her out of her house in the middle of the night.
While sitting in the front seat of a car, Christopher Salinas Jr. extended his hand to her in an apparent effort to make amends.
"That's when Chris pulled me through the window with my arm," said Reid. "That's when Mike threw the handcuff on my left hand. I yanked back."
The driver of that car, Michael Sellers – who Reid didn't know – ran over and tried to put her in the back seat.
Fearing for her life, she clung to the wheel well as Sellers proceeded to pull and kick her hands.
"All I could feel is my fingers," said an emotional Reid, as she remembered the trauma. "If I didn't let go, they were going to fall off. There was so much blood. I couldn't do it anymore. I couldn't hold on anymore."
After being forced to let go, Reid kept up a fierce fight.
"All I kept telling myself was 'Fight 'em,'" she said. "'Do whatever I can; do not let them get me in that vehicle; don't let them get me in the vehicle, because then I'm going to be helpless.'"
Reid was eventually overpowered, thrown into the backseat – kidnapped.
She said Sellers and Salinas only made it a block before she was able to jump from the moving vehicle.
The men caught up to Reid, dazed from hitting her head on the pavement.
Sellers tazed her and Salinas threatened her with a gun.
"These were the things going through my head," she recalled. "'Am I still going to be alive? Where are they taking me? What are their intentions?'"
Reid tells CBS5 News, once back in the car, Sellers continued to taze her as he drove.
"You don't know how much strength you have until you're fighting for your life," she reflected.
Erratic driving caught the attention of a Phoenix police officer, and Sellers pulled into a gas station.
"That's when I jumped out of the car and ran to the cop and said 'They have guns!'" said Reid.
Sellers, who turned out to a bail recovery agent with Better Choice Bail Bonds, told police he got the wrong woman.
He said Salinas, a felon on parole who he'd apprehended that night, falsely identified Kimberly Reid as Kimberly Summers.
"If it was a case of mistaken identity, why would he give a felon a gun, you know what I mean?" asked a skeptical Reid.
She said Sellers never identified himself as a bail recovery agent during her terrifying ordeal, which left her with torn ligaments and nerve damage in her left hand.
Reid has undergone three surgeries, with two more to go.
"My pain is not going to ever end," she said. "My hands will never be the same."
Sellers pleaded guilty to kidnapping and has been sentenced to three months in jail and five years of probation - meaning he's no longer allowed to work as a bail recovery agent.
Salinas got 18 years behind bars for kidnapping and aggravated assault.
Arizona's Department of Insurance tells CBS5 News they have an open investigation into Better Choice Bail Bonds, which employed Sellers as an independent contractor.
Our reporter spoke with owner Trent Schureman, who's now being sued by Reid.
He denies any responsibility in this case.
Copyright 2013 CBS 5 (KPHO Broadcasting Corporation). All rights reserved.