CBS Atlanta reveals the many sneaky names for sugar
Posted:
Updated: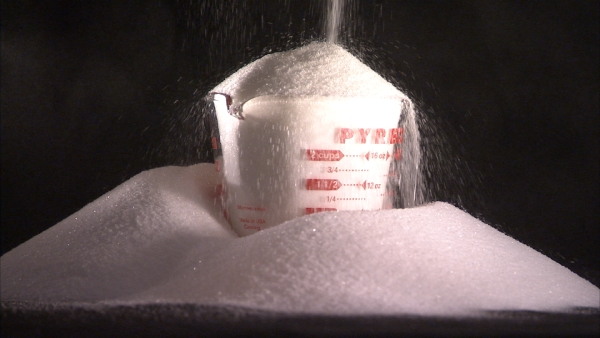 MARIETTA, GA (CBS46) -
New information suggests that sugar may be more damaging to our bodies than saturated fat.
In fact, one doctor went so far as to call it poison.
About 75 percent of processed foods contain added sugar, and it's not always easy to find on food labels.
According to the U.S. Department of Agriculture, the average American consumes more than 150 pounds of added sugar every year.
That's 22 teaspoons each day.
We all know sodas, candy, and cookies are chock full of sugar. That's why we call them "sweets."
But you might be surprised to learn that many seemingly healthy foods, and some that don't taste sweet, are actually loaded with it.
That includes bread, spaghetti sauce and baby food.
"A lot of the baby foods, the vegetables, will have pureed fruit added to them, which is a healthy food, but it conditions babies to prefer those sweet foods," said WellStar dietician Brooke Schembri.
But food labels can be tough to decode, especially because there are more than 50 different names for sugar.
CBS Atlanta News conducted an experiment with Schembri and a few savvy shoppers to show just how sneaky the food industry can be.
"They're practicing deceptive tactics. I think they're preying on people who are trying to make healthier choices," Schembri said.
Out of eight products, the shoppers correctly identified nearly every source of sugar. But what they didn't realize was the importance of the order in which the ingredients were listed.
For example, in Kashi's Go Lean Crisp Bar, Schembri pointed out that ingredients two, three and four were all sugars.
"So if you combined those three ingredients into one, they could possibly be the first ingredient in that bar," she said.
Of the 50-plus sneaky names for sugar, the most commonly added are evaporated cane juice or cane syrup, fruit juice concentrate, agave, honey, and pretty much anything that ends in "-ose," such as sucrose, dextrose, and glucose. And one expert says you should be especially careful with high-fructose corn syrup.
"A lot of the studies show that the fructose, I guess to put it simply, kind of feeds your fat cells more and can contribute to obesity more than other sugars," Schembri said.
She said people should aim for less than six teaspoons of sugar per day, or 24 grams. And if you want something sweet, choose foods with naturally occurring sugars, such as fruit.
"When it is engineered in a lab and added to food it doesn't add any nutrients. There's no value to it," Schembri said.
And don't be fooled by labels that say "organic" or "natural." They may still contain added sugar.
"You think that's what you're getting and so if you don't read the labels you really don't know, and I think it's deceptive, really deceptive," said one of the shoppers, Susan Deisenroth.
Crusade Against Sugar
What is all of this added sugar doing to our bodies?
A UCLA study found a high-fructose diet slows brain function and hampers learning and memory. And according to researchers at UC-Davis, excess consumption of high fructose corn syrup increases a type of artery-clogging cholesterol, which in turn increases the risk of heart disease. Other studies suggest sugar may lead to overeating and depression.
One doctor who is particularly outspoken when it comes to sugar's negative effects is Dr. Robert Lustig. He's a pediatric endocrinologist and author of the book Fat Chance. Lustig equates fructose with poison and says not only does it lead to weight gain, but lots of other health problems, too.
"The thing that makes sugar so egregious is not its effect on weight but its effect on chronic metabolic disease; its effect on diabetes, its effect on lipid problems, its effect on heart disease, its effect on hypertension, and likely but not proven yet, its effect on promoting cancer and dementia as well," Lustig said.
Lustig aims to tackle public policy. In the long term, his goal is to get sugar removed from the Food and Drug Administration's list of foods that are "Generally Recognized as Safe."
"The food industry has carte blanche, complete license to do whatever it wants with our food supply, currently. The question is, is this allowable? Should this be allowable?" Lustig asked.
Until then, his advice to Americans is to shop along the outskirts or the grocery store. In other words, stick with fresh produce.
"If you've gone into the shelves, you've gone off the ranch," Lustig said.
Copyright 2013 WGCL-TV (Meredith Corporation). All rights reserved.