Thousands rally for gun control
Posted:
Updated:
By Joseph Wenzel IV, News Editor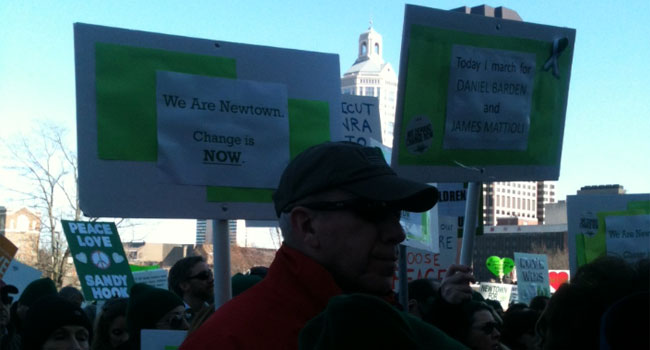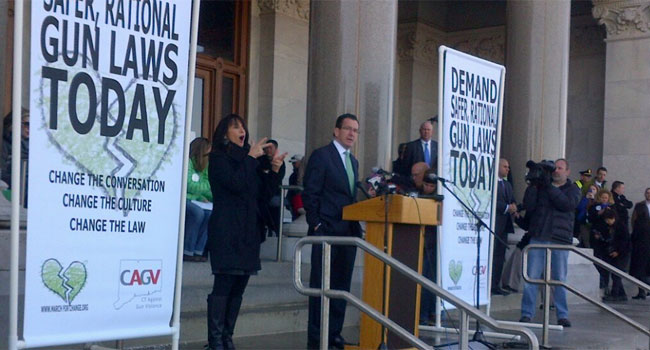 © Photo provided by Governor's office.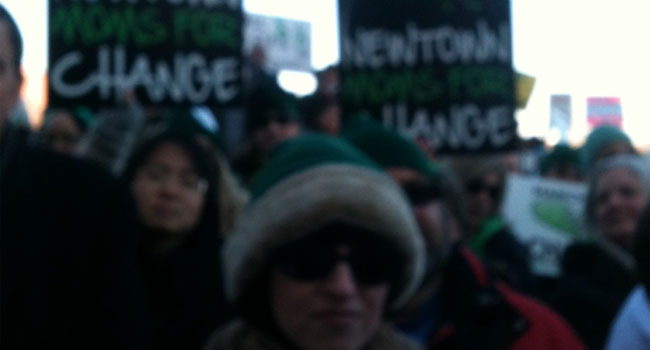 HARTFORD, CT (WFSB) -
More than 5,000 people attended a rally at the steps of the State Capitol for gun control where they demanded action from Connecticut lawmakers.

Members of March for Change told Eyewitness News held it on Thursday because it was a weekday so the legislators will be at the State Capitol in Hartford.
And because Tuesday marked the two-month anniversary of the Sandy Hook shootings.
"We are marching for our children, our children's children, and their right to life, liberty, and the pursuit of their happiness," March for Change said in a statement Wednesday. "Every American, especially our young, should have the freedom to grow up in an America free from the fear of losing a loved one to a firearm."
March for Change is "a bi-partisan, action-driven grassroots effort" and was "started by two Fairfield County area moms."
"No American child should have to experience what the children of Newtown have experienced, and yet, in America today, mass shootings have become a common occurrence," March for Change in a statement.

Henrietta Beckman, whose son was murdered in 2002, spoke at the rally. She doesn't know what she'll say yet, but she does know what she wants.
"There's no reason that anybody in this country needs an assault weapon with that capacity, none whatsoever," Beckaman told Eyewitness News Wednesday night. "Speak up. It's not a silent majority. We've got to be loud."
Many of those in attendance were mothers, who said enough is enough, and wanted something done to stop the violence. Many chanted "the time is now" and asked political leaders to find ways to protect their children.
"We are the ones, we are waiting for," March for Change shouted Thursday morning.

Gov. Dannel P. Malloy energized the crowd when he said we need a background check to get on a airplane and that no one should be able to buy a gun with a background check.
Collin Goddard, who barely survived the shooting at Virginia Tech, told the crowd his story.
"He proceeded to shoot and kill 32 of my fellow classmates and teachers," Goddard said. "He left me with four bullet wounds."
People told Eyewitness News that they respect second amendment rights, but that they do not see the need for assault weapons or large magazines.
Veronique Posner, whose 6-year-old son Noah was one of the 26 children and adults killed at Sandy Hook Elementary School on Dec. 14, said what happened was "unacceptable."
"Twenty-six people in the sanctity of a school were gunned and lost their lives," she said. "I don't see that falling by the wayside."
Jillian Soto told Eyewitness News that she isn't surprised her sister Vicki died protecting her students.
"She would be proud we are out there fighting for change and we are doing something about it and not sitting back like another story," she said.

Last month, gun rights activists also gathered on the Capitol steps. Hundreds were there for that rally, and state Sen. Beth Bye said the other side needs to show the same amount of organization.
Bye has been an outspoken supporter of gun control and was friends with Ana Marquez Greene's mother. The 6-year-old was one of 20 children who were killed inside Sandy Hook Elementary School on Dec. 14.
"She's an amazing person and her daughter was murdered. And we talked about the Newtown tragedy," Bye said. "I talk about the Newtown slaughter because that's what it was."
A community forum titled A Farewell to Arms was held in Hartford on Wednesday night where people talked about how gun control is a public health crisis.
"We talk about Newtown and how many died that day?" said Deborah Lewis, who is from the Connecticut chapter of the One Million Moms for Gun Control. "Did you know that there were 80 people who died that day and 80 other people who die of gun violence every other day of the week?"
One Million Moms for Gun Control said they have also sent Valentine's Day cards to all their senators and representatives in Washington, DC.
Copyright 2013 WFSB (Meredith Corporation). All rights reserved.