CBS 5 Advocate
Seniors need to know the clues of the grandparent scam
Posted:
Updated: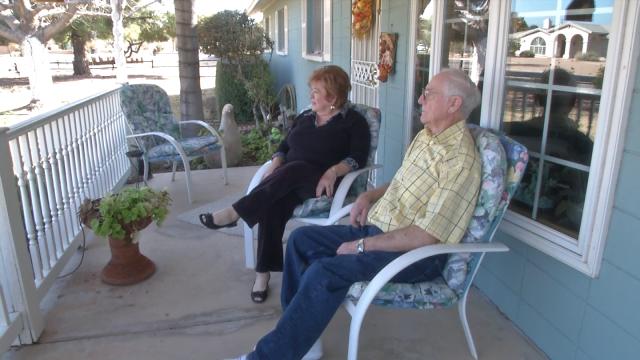 SCOTTSDALE, AZ (CBS5) -
A Scottsdale couple foiled a popular scam by doing the one thing con artists tell victims not to do.
Some Valley seniors are falling victim to what's known as "The Grandparent Scam." Even though it's been around for years, many grandparents still aren't aware of it.
"We've been married 49 years, we have two daughters and five grandchildren," Diana Baughman said.
The scam always starts with a frantic phone call from another country. Diana Baughman's husband, Ken Baughman, said it was a lawyer in Peru who said his grandson was in a Lima jail on a drug charge. He pleaded to speak to his grandson.
"[He] sounded like a very scared young man and he really sounded like my grandson," Ken Baughman said.
Ken Baughman said the young man knew his grandson's name and even knew to call him "papa" - not grandpa. The scammer generally gets this information by tricking the grandparent into saying the name first on the phone or by culling the social media sites of their victims, looking for personal messages.
When the suspect came back on the phone, he said a bond needed to be posted or Ken Baughman's grandson would stay in jail for 30 days. Ken Baughman was instructed to get $3,800 in cash, go to the nearest Walmart store and wire the money immediately.
"He said, 'We've got to get the money, where are we going to draw the money from?' And I said, 'We're not going to do anything just yet,' because he was ready to go to Walmart and wire the money," Diana Baughman said.
Ken Baughman said the young man had begged for the money and, out of embarrassment, secrecy.
"He told me not to tell anybody in the family, he wanted to keep it away from the rest of the family," Ken Baughman said.
But Diana Baughman was suspicious. She took the one action the scammer doesn't want you to take. She called her grandson's wife.
"'Where is my grandson?' She said, 'He's at work.' I said, 'Are you sure?' She said, 'Yes,' and I said, 'OK, I've got to tell you what's happening,'" Diana Baughman said.
The grandson was safe in Arizona and the scam was foiled.

"Contact the family, unite together, let them know what just took place," Diana Baughman said.
That's the key. The scammer will try and guilt grandparents into keeping the matter from the rest of the family. If grandparents disobey and call their families, that will stop the scam in its tracks and potentially save thousands of dollars.
Copyright 2013 CBS 5 (KPHO Broadcasting Corporation). All rights reserved.