Proposal would increase daily stipends for state lawmakers
Posted:
Updated: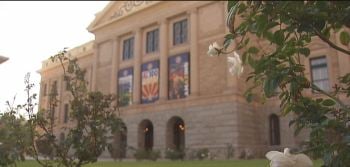 PHOENIX (CBS5) -
When state lawmakers went back into session, you sent us your top priorities that you wanted addressed. We hand-delivered those comments to leaders. Many of you said you want the focus to be on schools, jobs, and the economy. None of you said you wanted to give them a raise, but that will soon be on the table.
Right now lawmakers make $24,000 a year, and to increase that, they'd need voter approval. But the proposal that will soon be introduced will increase the amount of money lawmakers can spend each day, which lawmakers would approve - not you.
"I'm paying roughly, with the fees involved, about $1,000 a month," said Rep. Bruce Wheeler of Tucson. He said he's moving into an apartment to be close to the capitol the four days of the week they're in session.
"I've been staying at extended day hotels and motels," he said. He plans to co-sponsor a bill that would increase the amount of money lawmakers can spend each day, because he says it's not enough. Rep. David Stevens of Tucson is the bill's primary sponsor.
"It has not been increased in 28 years," Wheeler told us.
Right now lawmakers who live within Maricopa County get a stipend of $35 a day, but they are talking about increasing it to $90. Lawmakers who live outside the county currently get $60 a day, but it may increase to around $163.
"Some of us do think that's high, in all fairness, and excessive so I think we are more than likely going to tone those numbers way down," Wheeler said.
"I think the state needs to be in a better economic position," said House Speaker Andy Tobin of Paulden, AZ. He said he couch surfs in Phoenix during the week, and questions the timing of this measure.
"We all knew what the rules were in November, you know, we all knew what the per diem was," Tobin said.
The funds would come from the operating budget the House and Senate use to pay staff and security. And lawmakers get the stipend regardless of whether they use it.
We asked constituents what they think of the increase.
"It seems kind of ridiculous, I don't know why such a drastic change," said Scott Holeman.
"It makes sense, especially when you take into consideration the offset of cost of living," said Matt Berlinger.
"If the need is there then yes, it makes sense," said Rachel Kraines. "If the need isn't there there's a lot of other things the money can be allocated at this time."
The bill hasn't been introduced yet and is still in a drafting phase.
Copyright 2013 CBS 5 (KPHO Broadcasting Corporation). All rights reserved.