Glendale police say blow was struck against gang
Posted:
Updated: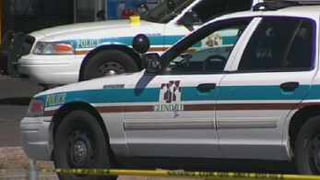 © CBS 5
GLENDALE, AZ (CBS5/AP) -
Police in Glendale say they've struck a blow against a street gang responsible for armed robberies, aggravated assaults and one murder.
At a news conference Wednesday afternoon, police announced that they've arrested dozens of people affiliated with the criminal group.
Glendale Police Chief Debora Black says nearly 60 people affiliated with the Grandel gang have been taken into custody so far in the yearlong investigation and other arrests are expected.
Glendale investigators worked with the Maricopa County Attorney's Office and Immigration and Customs Homeland Security Investigations cleared 40 violent criminal cases, made a total of 52 felony arrests and served 24 search warrants on locations and persons connected to Grandel.
Investigators secured indictments on 17 additional suspects on a total of 151 offenses. Several arrests were made this morning, and will be working for the next few days to locate and arrest the remainder of those indicted.
Nine of these arrests occurred Wednesday while others happened months earlier in the case.
Criminal charges brought during the course of this lengthy investigation include homicide, armed robbery, aggravated assault, weapons violations, home invasion, burglary, theft and money laundering. All individuals involved are United States citizens.
Police say their investigation of the gang began when they examined a February 2010 stabbing death in which a gang member was later convicted of killing a man.
Investigators say the majority of the gang's victims were fellow criminals.
Copyright 2013 CBS 5 (KPHO Broadcasting Corporation). All rights reserved. The Associated Press contributed to this report.