Dogs' superhuman noses tested
Posted:
Updated: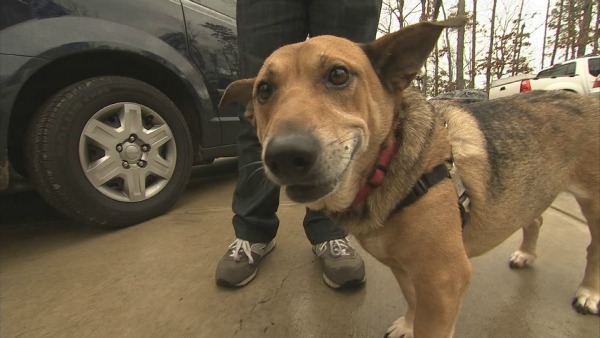 CHEROKEE COUNTY, GA (CBS46) -
Dogs' keen sense of smell is more important to humans than ever before, said Jeff Schettler of the Georgia K9 National Training Center in Canton. Schettler, a retired police K-9 handler, trains military and police dogs to sniff out humans, cadavers, drugs and explosives.
"Every day in Afghanistan or Iraq a dog detects an improvised explosives device in a place people are doing business. How many hundreds or thousands of people did he save?" asked Schettler.
To better understand the power of a dog's nose, CBS Atlanta News partnered with Schettler and his team to demonstrate how a trained trailing bloodhound named Dare can track a person down.
A trainer, acting as a "fugitive," hid deep into 4,000 acres of woods in rural Cherokee County. He intentionally dropped a rag that serves as a scent article necessary for any dog to begin a hunt. According to Schettler, the scent article can be almost any item that contains the subject's odor.
Handler Joseph Citta instructed Dare to sniff the rag. Instantly, Dare found the invisible scent trail and dragged Citta down the hill.
Schettler explained that dogs have a unique ability to isolate each person's unique odor that he or she leaves behind.
A forest is ideal for trailing because each step Dare takes through leaves and vegetation stirs up remnants of the person's odor; confirming for Dare that she's on the right track.
Citta explained that handling is mentally and physically draining.
"There's no way you can just run behind the dog. If the dog is distracted, you have to be watching the dog the whole time no matter what obstacles are in front of you," said Citta.

Ten minutes after beginning her hunt, Dare achieved what is humanly impossible and found the "fugitive" a half-mile into the woods. Citta rewarded her with a treat and praise.
GPS tracking devices show Dare followed the subject's track almost perfectly.
"Imagine trying to visually track that [without a dog]. Footstep to footstep, broken branch to broken branch. Overturned leaf to overturned leaf. It would be hours if not days" said Schettler.
Schettler said he believes any dog has the ability to follow scent. Whether they do it successfully depends on their drive.
To test that theory, reporter Jeff Chirico volunteered his 7-year-old mutt, Dallas. Once Chirico was hidden a hundred yards away, Dallas began running in his direction. But Dallas quickly became sidetracked by coyote waste and had a difficult time finding Chirico's trail afterwards.
Schettler said dogs he trains for trailing are specially-bred and have an innate desire to hunt. It takes four to six months of training before a dog is ready for work.
Copyright 2013 WGCL-TV (Meredith Corporation). All rights reserved.