Obama approves emergency declaration for Connecticut
Posted:
Updated: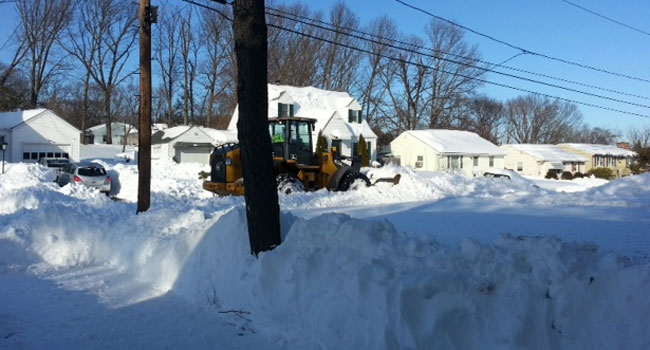 © Plow comes down a street in New Britain.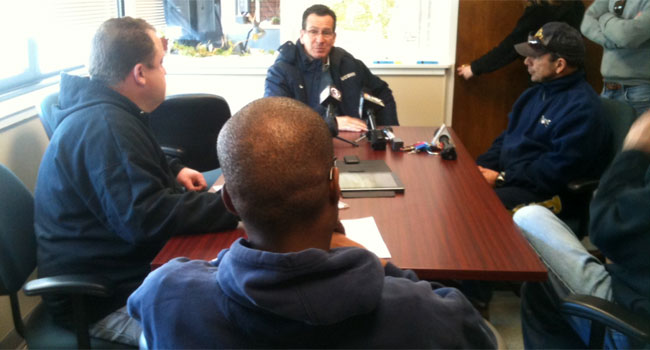 © Gov. Dannel talks with town officials in Hamden Sunday afternoon.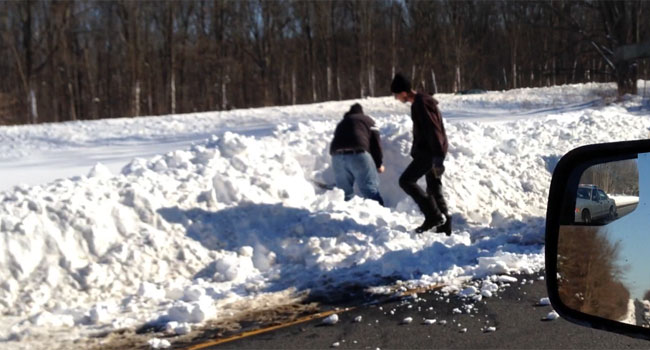 © Troopers digging out car on Interstate 91.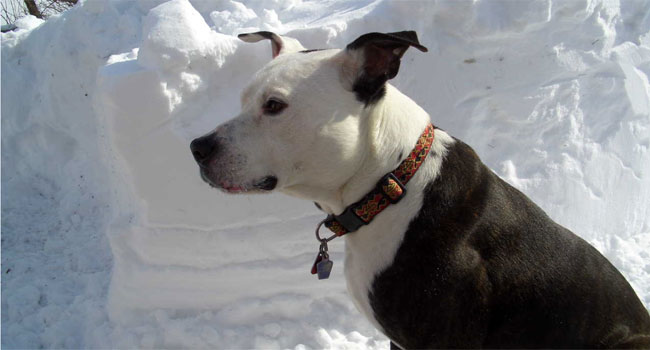 © Oscar enjoying the sun and snow in North Canaan.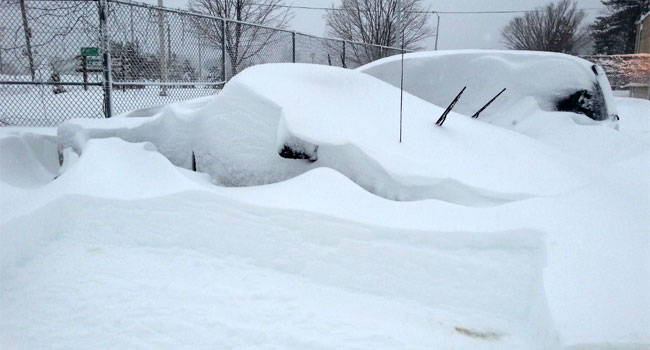 © Cars buried under snow in Branford.
Today's Forecast
From Chief Meteorologist Bruce DePrest in the Channel 3 Early Warning Forecast Center…
***A COASTAL FLOOD ADVISORY is in effect for coastal portions of Fairfield and New Haven Counties***
Tonight: Breezy and mild with occasional showers. Some showers could produce heavy downpours. Winds could gust to 30-40 mph at the coast with gusts to 20-30 mph over interior portions of the state. Low: 62-68.
Wednesday: A chance for showers in the morning, then partial clearing in the afternoon. Quite breezy in the morning, then the wind will begin to diminish somewhat during the afternoon. High: 77 inland, 78 shore.
Thursday: Partly sunny and warm. Low: 62. High: 82 inland, 82 shore.
Friday: Fall arrives at 4:02 in the afternoon! Partly sunny and breezy. Low: 58. High: 78 inland, 80 shore.
Saturday: Mostly sunny and warmer. Low: 57. High: 84 inland, 81 shore.
Sunday: Mostly sunny, near record warmth! Low: 60. High: 88 inland, 83 shore.
Monday: Mostly sunny, continued very warm. Low: 63. High: 87 inland, 82 shore.
Tuesday: Partly sunny, not quite as warm. Low: 62. High: 80 inland, 77 shore.
7-Day Forecast: Hartford
Wed
nesday
Showers End
Thu
rsday
Warmer
Fri
day
Autumn Begins!
Sat
urday
Warm
Sun
day
Very Warm
Mon
day
Very Warm
Tue
sday
A Bit Cooler
Currently in Hartford as of
71°(Feels like 71°)
Overcast
Wind: N @ 10 mph, gusting to 20 mph
Barometer: 29.9 in.
Sunrise: 06:34:59 am
Sunset: 06:52:34 pm
Humidity: 81
Visibility: 10 mi.
UV Index: 0
7-Day Forecast: Waterbury
Tue
sday
Mostly cloudy
Wed
nesday
Mostly cloudy
Thu
rsday
Mix of sun and clouds
Fri
day
More sun than clouds
Sat
urday
Sunny
Sun
day
Mainly sunny
Mon
day
Showers possible in the afternoon
Currently in Waterbury as of
68°(Feels like 68°)
Overcast
Wind: NNE @ 13 mph, gusting to 24 mph
Barometer: 29.91 in.
Sunrise: 06:36:35 am
Sunset: 06:54:06 pm
Humidity: 87
Visibility: 10 mi.
UV Index: 0
7-Day Forecast: New London
Tue
sday
Cloudy and windy
Wed
nesday
Windy, and mainly cloudy
Thu
rsday
Partly cloudy and windy
Fri
day
Windy with a mix of sun and clouds
Sat
urday
Times of sun and clouds
Sun
day
Mix of sun and clouds
Mon
day
Showers
Currently in New London as of
68°(Feels like 68°)
Overcast
Wind: NNE @ 20 mph, gusting to 30 mph
Barometer: 29.82 in.
Sunrise: 06:32:40 am
Sunset: 06:50:04 pm
Humidity: 90
Visibility: 8 mi.
UV Index: 0
7-Day Forecast: Norwich
Tue
sday
Cloudy and windy
Wed
nesday
Windy, and mainly cloudy
Thu
rsday
Partly cloudy and windy
Fri
day
Windy with a mix of sun and clouds
Sat
urday
Times of sun and clouds
Sun
day
Mix of sun and clouds
Mon
day
Showers
Currently in Norwich as of
68°(Feels like 68°)
Overcast
Wind: NNE @ 18 mph, gusting to 29 mph
Barometer: 29.83 in.
Sunrise: 06:32:40 am
Sunset: 06:50:04 pm
Humidity: 90
Visibility: 7 mi.
UV Index: 0
7-Day Forecast: Manchester
Tue
sday
Mostly cloudy
Wed
nesday
Mostly cloudy
Thu
rsday
Times of sun and clouds
Fri
day
Mix of sun and clouds
Sat
urday
Sunny
Sun
day
Abundant sunshine
Mon
day
Partly cloudy
Currently in Manchester as of
71°(Feels like 71°)
Overcast
Wind: N @ 10 mph, gusting to 20 mph
Barometer: 29.9 in.
Sunrise: 06:34:28 am
Sunset: 06:52:07 pm
Humidity: 81
Visibility: 10 mi.
UV Index: 0
7-Day Forecast: New Haven
Tue
sday
Cloudy and windy
Wed
nesday
Windy, and mainly cloudy
Thu
rsday
Times of sun and clouds
Fri
day
Times of sun and clouds
Sat
urday
Sunshine
Sun
day
Sunny
Mon
day
Showers possible
Currently in New Haven as of
70°(Feels like 70°)
Broken Clouds
Wind: N @ 18 mph
Barometer: 29.85 in.
Sunrise: 06:36:04 am
Sunset: 06:53:26 pm
Humidity: 81
Visibility: 10 mi.
UV Index: 0
7-Day Forecast: Vernon
Tue
sday
Mostly cloudy
Wed
nesday
Mostly cloudy
Thu
rsday
Times of sun and clouds
Fri
day
Mix of sun and clouds
Sat
urday
Sunny
Sun
day
Abundant sunshine
Mon
day
Partly cloudy
Currently in Vernon as of
71°(Feels like 71°)
Overcast
Wind: N @ 10 mph, gusting to 20 mph
Barometer: 29.9 in.
Sunrise: 06:34:28 am
Sunset: 06:52:07 pm
Humidity: 81
Visibility: 10 mi.
UV Index: 0
7-Day Forecast: Wallingford
Tue
sday
Cloudy
Wed
nesday
Cloudy
Thu
rsday
Times of sun and clouds
Fri
day
Mostly sunny
Sat
urday
Abundant sunshine
Sun
day
Abundant sunshine
Mon
day
Chance of showers
Currently in Wallingford as of
70°(Feels like 70°)
Overcast
Wind: NNE @ 12 mph
Barometer: 29.89 in.
Sunrise: 06:35:44 am
Sunset: 06:53:12 pm
Humidity: 81
Visibility: 10 mi.
UV Index: 0
7-Day Forecast: Windsor
Tue
sday
Mostly cloudy
Wed
nesday
Mostly cloudy
Thu
rsday
Partly cloudy
Fri
day
Mix of sun and clouds
Sat
urday
Mainly sunny
Sun
day
Sunny
Mon
day
Partly cloudy
Currently in Windsor as of
70°(Feels like 70°)
Overcast
Wind: N @ 14 mph
Barometer: 29.92 in.
Sunrise: 06:35:01 am
Sunset: 06:52:42 pm
Humidity: 84
Visibility: 10 mi.
UV Index: 0
7-Day Forecast: Bristol
Tue
sday
Mostly cloudy
Wed
nesday
Cloudy
Thu
rsday
Partly cloudy
Fri
day
A few clouds
Sat
urday
Abundant sunshine
Sun
day
Sunshine
Mon
day
Afternoon showers
Currently in Bristol as of
70°(Feels like 70°)
Overcast
Wind: NNE @ 12 mph
Barometer: 29.89 in.
Sunrise: 06:36:07 am
Sunset: 06:53:42 pm
Humidity: 81
Visibility: 10 mi.
UV Index: 0
7-Day Forecast: Cheshire
Tue
sday
Cloudy
Wed
nesday
Cloudy
Thu
rsday
Times of sun and clouds
Fri
day
Mostly sunny
Sat
urday
Abundant sunshine
Sun
day
Abundant sunshine
Mon
day
Chance of showers
Currently in Cheshire as of
70°(Feels like 70°)
Overcast
Wind: NNE @ 12 mph
Barometer: 29.89 in.
Sunrise: 06:35:44 am
Sunset: 06:53:12 pm
Humidity: 81
Visibility: 10 mi.
UV Index: 0
Regional Conditions
71°
68°
68°
68°
71°
70°
71°
70°
70°
70°
70°