Arias describes first sexual encounters with victim in day 2 of testimony
Posted:
Updated: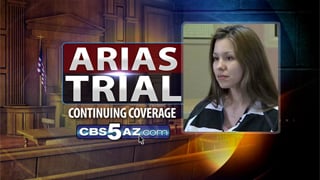 © CBS 5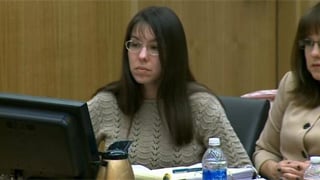 Jodi Arias on the stand Tuesday
PHOENIX (CBS5) -
Jodi Arias was back on the stand Tuesday, when talk of sexual encounters and past lovers dominated the trial. The defense team is trying to prove that Arias killed her ex-boyfriend, Travis Alexander, in self-defense.
Arias recounted how she met Alexander at a convention in Las Vegas in September 2006 and talked about some of their first physical encounters, which she said she was uncomfortable with at the beginning.
"He leaned in very close as if he wanted to kiss me, and he was licking his lips and staring at my lips like he wanted to kiss me, but he didn't," Arias said while on the stand.
That happened on the fateful trip to Las Vegas that started their relationship. Even though Arias was living with another man in California at the time, she claimed Alexander began calling her every night. She said they became physical at a party in California, when she was newly single, and that it escalated quickly.
"He began to perform oral sex on me," she said. She said even though she was nervous, she went with it because she didn't want to ruin the moment.
"I had taken it that far and I was kind of glad he was done and I was willing to reciprocate at that point," she said.
After that initial encounter, Arias said she went back to her home in Palm Desert. She said Alexander soon wanted to meet up again to give her a copy of the Book of Mormon. But that's not all that happened.
"Basically, he expressed he was horny, is what he said," Arias said.
She said they drove to a nearby park to have oral sex. After that, Arias said Alexander went back to Mesa, but on the way called her to apologize about what happened. She said they continued to talk on the phone almost everyday and met each other at a motel in Ehrenberg, AZ, a month later.
"Was he attempting to remove your clothing?" her defense attorney asked her.
"Yes, we both were taking off our clothes, I think," Arias responded.
And just like a TV show, court recessed with that cliffhanger. It will resume Wednesday morning.
Copyright 2013 CBS 5 (KPHO Broadcasting Corporation). All rights reserved.