Organizations working to distribute donations to Newtown families
Posted:
Updated: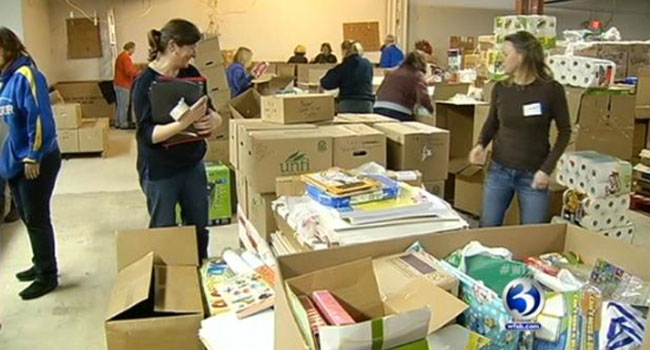 NEWTOWN, CT (WFSB) -
While the community tries to heal and move on after the massacre in Newtown, many families are still struggling with both financial and mental health burdens, and that's why a variety of funds have been set up to help them.
On Dec. 14, Adam Lanza, 20, shot and killed his mother as she slept in her bed. He then traveled the few miles to Sandy Hook Elementary School, where he proceeded to shoot out a security window, make his way into the building and kill 20 children and six adults. He then shot and killed himself as police made their way into the school.
Since the tragedy, cards, letters and never-ending boxes of donations have been flowing into Newtown.
"Our mission is to get them to the emotional solid ground, without worrying about paying the mortgage and fuel to maintain their lives," said Robert Accomando. "The hope is to give $100,000 a family to get them back to work."
To date, they've raised $1.2 million for the 26 families who lost loved ones. Now each family is set to get about $45,000 apiece to start.
"We are providing all services and needs from snow plowing, garbage removal cleaning," said Accomando, whose children wrestled with Jack Pinto, who was one of the students killed at Sandy Hook. "Everything to run a normal household."
The Sandy Hook School United Way fund has raised $9.1 million so far.

"We think it's a lot, but when you think about the next 10, 15, 20 years and what we've learned from other communities, it's not a lot," said United Way Executive Director Kim Morgan. "We bring in as many resources as we can for children growing up through the years."
The money has not been distributed at this time.
Former U.S. Sen. Joe Lieberman will serve as an adviser to the Sandy Hook School Support Fund's transition team.
The transition team is responsible for creating the charitable structure in which the donations from the Sandy Hook School Support Fund will be transferred
For now, any Sandy Hook family struggling emotionally and financially can dip into a $250,000 immediate needs fund for hardships.
"It's for any resident impacted," Morgan said.
The town also has a fund for the 26 families and two injured teachers, which has $80,000 in it to be split between the families.
The fund was established by United Way of Western Connecticut and Newtown Savings Bank.
To donate to the Sandy Hook School Support Fund, click the following link.
Copyright 2013 WFSB (Meredith Corporation). All rights reserved.