CBS 5 Investigates revisits 'Year of Terror' when 3 serial killers stalked streets of Phoenix
Posted:
Updated: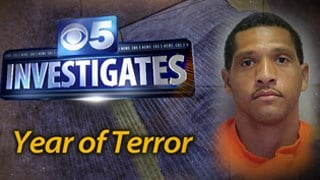 © CBS 5
PHOENIX (CBS5) -
The record-breaking heat that suffocated the Valley of the Sun during the summer of 2006 was nothing compared with the terror that smothered metro Phoenix residents.
"People were terrified," remembered then Phoenix Mayor Phil Gordon. "Children were terrified. It seemed almost every day something horrible was happening, and people were afraid to go out."
Two serial shooters were cruising the streets of the Valley, randomly preying on pedestrians and pets and leaving a trail of bodies from east to the west.
At the same time, another killer was haunting South Phoenix.
Rapes, robberies and murders were happening with disturbing frequency, and appeared to be random acts of violence.
Most alarming, though, victims were being abducted from restaurants, bus stops and car washes, all in the general vicinity of Baseline Road in the southern reaches of Phoenix.
"We had the rapist going on and the indiscriminate shooting of people and animals and the raping and killing of innocent women. It really was unheard of across the country," Gordon said.
SPECIAL SECTION: Police once again hunting for serial killer operating in Phoenix
The Baseline Killer's reign of terror began Aug. 6, 2005, when police said a man forced three teenaged girls behind a church on Baseline Road, molesting two of them, eventually ending with the murder of 37-year-old Carmen Miranda on June 29, 2006.
More than seven years have passed since the terror began, but the memories still echo loudly in the minds of the victims' families.
On Feb. 20, 2006, Romelia Vargas and Mirna Palma-Roman were working in their food truck in South Phoenix when the killer shot them both in the head.
"I stopped and looked to the south - 91st Avenue and lower Buckeye was where my wife parked her truck - and so I turned south, and all of these police, everybody was down there, everything was taped off," said Alvin Hogue, who was married to Palma-Roman. "There was tons of people down there. My wife and her cook, they were still in the lunch truck. They had been shot."
Other victims were found at scenes that had no consistent thread:
Sophia Nunez was found dead in her bathtub.
Tina Washington's was leaving preschool, where she worked, when she was shot.
The decomposed body of Kristin Gibbons was found in a pile of trash.
George Chou and 20-year-old Liliana Sanchez were found about a mile from the restaurant where they worked.
"What he did is not right. He took her away from us," said Juana Sanchez, Liliana's mom.
Day after day, night after night, the murders were stacking up.
The killer became more brazen and increasingly violent.
The pressure to stop the killings mounted.
"Probably the most pressure I can remember as mayor, because all the people were scared, even the city employees," Gordon said. "It was 24 hours a day of intense pressure."
A task force of veteran detectives worked the case around the clock. Federal agents were brought in. Hidden cameras were installed around the city. And hundreds of officers went undercover in areas where they thought the killer would strike next.
"Officers were exhausted," Gordon said. "You could see it in their eyes."
Billboards were erected across the Valley.
The mayor and police even made a TV comercial.
"We're asking for your help," Gordon pleaded in the public service announcement.
Tips poured in. Police chased more than 8,000 leads and obtained 25,000 different pieces of information.
And then one day, after a year of tracking the elusive killer, police made an arrest.
Mark Goudeau was linked to nine murders, 15 sexual assaults and numerous armed robberies. He was convicted of the nine murders and 67 other felonies and now sits on Arizona's Death Row while serving a 438-year-sentence for rape and assault.
Since then he's remained silent, a mysterious phantom.
Until now.
Copyright 2016 KPHO (KPHO Broadcasting Corporation). All rights reserved.
---