UPDATE
2 men, 1 woman killed in Phoenix house fire
Posted:
Updated: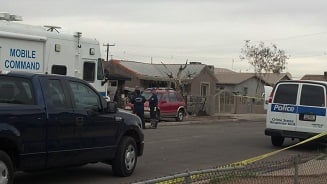 © CBS 5
A woman yanked from a window managed to escape a burning home. Fire investigators said three others didn't survive.
Flames lit up the south Phoenix neighborhood near 14th Avenue and Pima Road around 3:30 a.m. Sunday.
Family members of the victims told CBS 5 the city of Phoenix condemned the home more than a year ago. However, Connie Romero, 72, refused to leave and had been living there without power for more than a year. Romero's grandson said the family did everything they could to get her to move.
"She would go stay the night with family but would always want to come back home," said Romero's grandson Ramon Ramirez.
Family members said Romero's son Ruben Romero, 57, was also living in the home. He along with a friend renting a room died in the fire.
Since there was no electricity, investigators said the family used candles for light. Fire investigators said they believe that's what probably started the fire.
The woman who escaped told police she woke up to screams in the middle of the night.
"Sadly this female went over to assist the elderly woman in the other bedroom and saw her on fire," said Phoenix Police Sgt. Steve Martos.
The woman told investigators there was nothing she could do so she ran back to her bedroom and woke her husband.
Rodney Thomas said he was riding his bicycle nearby when he saw the smoke.
"I heard someone hollering 'Help! Help!' I ran around there. There was a lady stuck in the window and her husband was behind her. I kicked the door open and broke the bars on the windows," said Thomas.
Thomas said he went back for the others but it was too late.
Investigators said the woman who escaped is being treated for smoke inhalation and burns.
Copyright 2013 CBS 5 (KPHO Broadcasting Corporation). All rights reserved.