Newtown leaders remember tragedy at Sandy Hook
Posted:
Updated: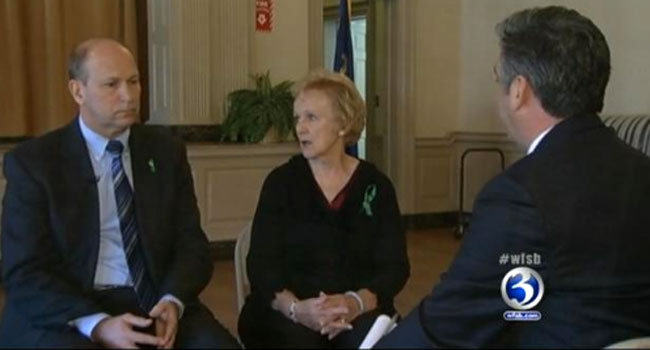 NEWTOWN, CT (WFSB) -
Following the tragedy in Newtown, two town leaders quickly responded and earlier this month, Newtown Police Chief Michael Kehoe and First Selectwoman Pat Llodra sat down with Eyewitness News to discuss the events of that day.
On Dec. 14, Llodra had a series of appointments and was working on the town budget.
Kehoe said that he was in his office meeting with his communications director when he "noticed a bevy of activity."
"They (Newtown officers) told me we had an active shooter at the school. It was all officers on deck," he said. "All officers to the scene."
Adam Lanza, 20, had shot and killed his mother while she slept at her home before he went to Sandy Hook Elementary School and killed 20 children and six adults. He killed himself as police made their way into the building.
When Eyewitness News asked Kehoe what his gut feeling about the situation was, he said "I was hoping it wasn't true and that it was a misunderstanding."
"They (Kehoe and the Newtown Fire Chief) both told me what they thought was the scope of the horror of the event," Llodra said.
Kehoe said the moment when he entered Sandy Hook will be something he remembers for the rest of his life.
"I was in the school as a first responder and turned the corner because I entered from back and I would call it the hallway of death," he said. "That was very traumatic for me to observe and know what had gone on."
However, Llodra said she will not forget being with the parents and families at the Sandy Hook Volunteer Fire Department.
"We had many bad messages we had to communicate to these people and the loss of loved ones," she said.
Llodra said she and Kehoe did not have a moment to catch their breath and think about how bad the situation was. But, Kehoe said even though he knew that he could handle the challenge ahead, he knew it would be a big one.
"There is a role and responsibility that kicks in when you're in that position," Llodra said. "You just can't afford yourself the luxury of being anything other than what you have to be to support others, so the time to grieve personally comes much later."
Their own families fueled their strength.
"I never felt alone on this journey and I always felt there were lots of people I could lean on," Llodra said.
Counterparts in other communities also reached out.
"I had various chiefs with me all times while I was on duty to help me, assist me, counsel me and that relieved a tremendous burden to me," Kehoe said.
They both told Eyewitness News from day one that trying to help the town get through the pain is what keeps them going.
"When I look at the volunteer firefighters, EMS, our police officers and see the hurt they are feeling, I think it was overwhelming for all of us," Llodra said. "It was an extraordinary difficult day that I think many of us will carry forever and ever."
"I'm sure we're a little stronger, a little bit wiser in our wisdom, not by choice, but by chance," Kehoe said.
Llodra said she can't deny the residents of Newtown have been hurt very badly.
"I knew that we would wrap our arms around each other and make sure we got through this," she said.
And as they now begin to put their focus on the future, Kehoe and Llodra know it will take the strength this community has already shown to truly move on.
"No matter how tough it gets out there," Kehoe said. "We're here to help and serve and do what we can."
"This doesn't define us. This is something that happened to us," Llodra said. "It doesn't change who we are."
The chief and first selectman both agree on a personal level they haven't even begun processing what happened.
So, how do you get through something so awful?
Eyewitness News wanted more answers about recovery and healing.
So reporter Robert Goulston traveled to Littleton, CA where the shootings at Columbine happened 14 years ago.
Beginning Monday, our week-long series "Lessons from Columbine" offers some answers.
Eyewitness News sits down with people who were impacted by the shootings there.
People will hear from the principal about why they decided to stay in the school, from the teachers who returned there, to parents and law enforcement who made it through those difficult days.
Copyright 2013 WFSB (Meredith Corporation). All rights reserved.