Bridgeport Police Department involved in brutality suits
Posted:
Updated: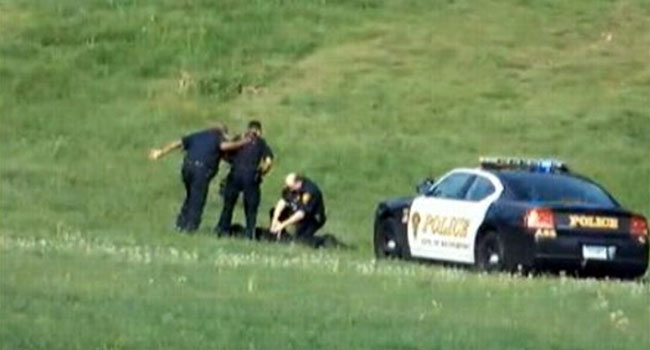 BRIDGEPORT, CT (WFSB) -
One lawyer told Eyewitness News that his client was assaulted by a Bridgeport officer, who is at the center of a brutality probe.
Eyewitness News learned that there is a pending federal lawsuit which was filed against six Bridgeport patrol officers and a sergeant, including Joseph Lawlor.
In the lawsuit, William Feliciano of Bridgeport claims he was roughed up after he led police on a chase in December 2010.
In the lawsuit, attorneys for Feliciano said officers "for no reason whatsoever" repeatedly kicked him in the face, the jaw, the head and the shoulders.

"My client wants justice," said attorney Gary Mastronardi, who represents Feliciano.
As a result of the incident, attorneys for Feliciano said his jaw was shattered in several places and he has had to undergo surgery three times for the injury.
Mastronardi said his client "cooperated 100 percent and did everything he was asked to."
"He has absolutely no criminal history at all," he said. "He's never been involved in any violent or tumultuous conduct of any kind."

In the lawsuit, which seeks $3.5 million in damages, attorneys for Feliciano said their client suffered extreme pain and fear, which led to "extreme mental and emotional distress and anguish."
Lawlor, along with Elson Morales and Clive Higgins, was placed on paid leave after a YouTube video allegedly captured them using a stun gun and then kicking Orlando Soto, 27.
Attorney Michael Fitzpatrick represents Morales, who initially used a stun gun on the man in the video and whose back is to the camera in the 57-second video.
"People look at the video and believe it's a suspect motionless on the ground after being tased," he said. "But, the truth in fact is it's a suspect who was not complying with officer's commands to show his hands and arms."
Fitzpatrick said his client did not break the law or violate any police policies.
"There's nothing reflected in this video in connection with Mr. Morales that would constitute excessive force," he said.
Morales and Lawlor are named in a citizen's complaint, in which it asked the police chief to investigate an incident on May 2011.
Ramon Sierra, who is disabled and suffers from seizures, claims the officers started questioning him on the street as to his recent whereabouts. Then they threw him on the ground and used excessive force.
Earlier in the week, the National Association for the Advancement of Colored People said they've been fighting against this type of abuse of power for decades and the group issued a charge to the police department and other city officials.
Copyright 2013 WFSB (Meredith Corporation). All rights reserved.