State lawmakers hold hearing on gun control
Posted:
Updated: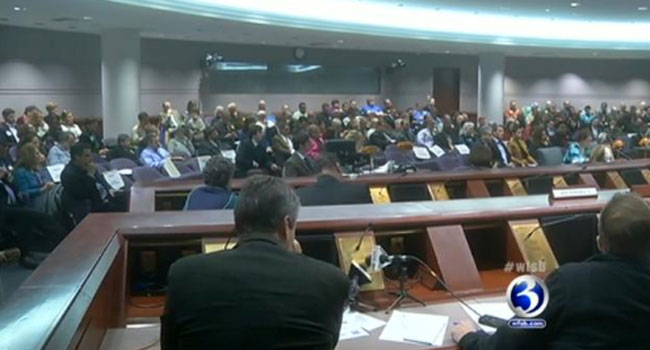 HARTFORD, CT (WFSB) -
A public hearing was held on Monday morning when the families of Newtown children killed in Sandy Hook Elementary School told lawmakers that they need to act on gun control legislation.
Also testifying were gun owners, who believe the answer is not more control, but enforcing current laws and better mental health services.
More than 1,300 people were expected to speaking at a public hearing for the Bipartisan Task Force on Gun Violence Prevention and Children's Safety.
On Dec. 14, Adam Lanza, 20, shot and killed his mother while she slept in her bed before going to Sandy Hook Elementary School, where he killed 20 children and six adults. He then killed himself as police entered the school.
The panel of Democratic and Republican legislators was formed in the wake of the tragedy at Sandy Hook Elementary School in Newtown. It will be divided into three subcommittees, which will focus on gun control, school safety and mental health.
Security was tight at the Legislative Office Building on Monday morning and everyone had to go through metal detectors. Some people waited more than two hours to speak.
The room being used by the task force was reserved until 1 a.m. on Tuesday to allow everyone to testify.
Veronique Pozner was one of the Sandy Hook victims to speak Monday. She held a photo of her 6-year-old son, Noah Pozner, which was taken the day before he was murdered.
"The time for change is now," she said. "Let the state of Connecticut be an agent for change."
Veronique Pozner showed the lawmakers a Thanksgiving picture where he said what he was thankful for.
"I need to channel this into action for the greater good," she said. "That there be some measure of something positive that came out of this."
Monday's hearing was the second of three hearings with the previous one on school safety and the final one being on mental health issues.
"These are all pure gun bills," said Robert Crook of the Coalition of Connecticut Sportsmen. "There are 91 of them."
Crook said he did not support more laws on gun control, even if the state looked at passing legislation to provide more help with mental health issues.
"Gun control in the state is fifth in the nation as determined by anti-gun groups," he said.
Neil Heslin also spoke at the hearing and said on Dec. 14, he dropped off his son Jesse at Sandy Hook Elementary School and 20 minutes later, he was dead.
"Everyone is entitled to their own opinion. And I respect their opinions," he said. "But, I wish they would respect mine and realize it could have been their child."
Lawmakers are hoping to vote on some bills on gun control by the end of February; however, it may not be possible. And many legislators told Eyewitness News that they think few bills will pass.

Copyright 2013 WFSB (Meredith Corporation). All rights reserved.