One year since cigar salesman found shot and burned
Posted:
Updated: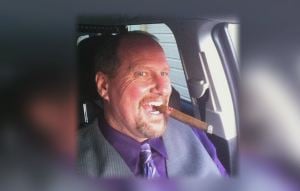 PHOENIX (CBS5) -
Three murders, only four days apart and the crimes shocked the Valley.
Saturday marks one year since that string of deaths started that included Bruce Gaudet, and Glenna and Lawrence Shapiro.
One of the victims, Gaudet, was known as the "Cigar Guy" and his family is asking that everyone light a cigar in his memory.
If you walk into nearly any cigar shop in the Valley and mention Gaudet's name, chances are someone will know who you are talking about.
"It was a year ago today," said Rick Hopkins, owner of Ye Olde Pipe & Tobacco Shoppe in Phoenix. "We all knew Bruce not only as a cigar rep, but as a person."
Hopkins at said he knew Gaudet for over a decade, probably longer than any other cigar store owner in the Valley.
"You'd say 'Bruce, how you doing?' And his line was always the same. He'd say, 'Living another day in paradise,'" said Hopkins.
But Saturday was far from paradise for his family in Las Vegas.
"He would help others all the time, his big smile," said his daughter Jessica Gaudet talking about what she remembered about her father.
Gaudet was found shot to death inside his Phoenix condo near 16th Street and Maryland Avenue.
The home was also set on fire.
Only four days later, a Paradise Valley couple, Glenna and Lawrence Shapiro were found tied up in their burned home.
One suspect connected to both crimes, Michael Crane, is behind bars. But Gaudet's family is asking that Saturday be about his memory.
"We are just asking to maybe light up a cigar. If you don't smoke, then just light up a cigar so maybe in heaven he can be smoking it," said Jessica Gaudet.
"I will smoke a cigar, one that Bruce and I particularly enjoyed together that we will smoke later on today," said Hopkins.
Copyright 2013 CBS 5 (KPHO Broadcasting Corporation). All rights reserved.