Group proposes ban on all assault weapons, large-capacity ammunition magazines
Posted:
Updated:
By Joseph Wenzel IV, News Editor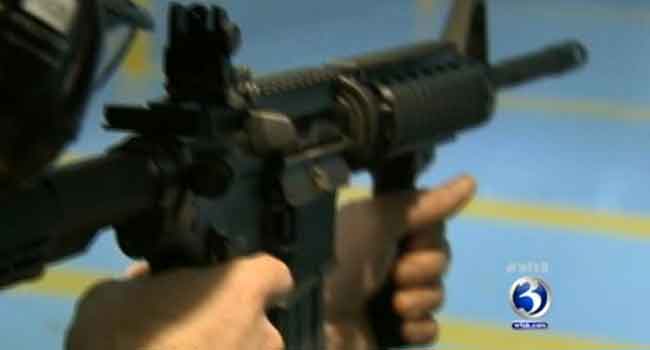 HARTFORD, CT (WFSB) -
A Connecticut-based nonprofit is recommending legislation that would require all privately owned assault weapons in the state to be destroyed.
Connecticut Against Gun Violence announced Tuesday that they want legislation proposed that would require any assault weapon and large capacity ammunition magazines of more than seven rounds be turned into police, removed from Connecticut and destroyed.
The legislation proposed by Connecticut Against Gun Violence would also include the following items:
Banning assault weapons

Banning large-capacity ammunition magazines of more than seven rounds
Requiring permits and universal background checks on all sales and transfers of guns
Requiring registration of handguns with annual renewal
Banning the right of way for transportation of firearms and ammunition bought over the internet
Making gun owners liable for negligent storage if any person gains access to firearms and injures himself or another person or causes damage to property
Restricting handgun sales to one gun purchase per month
Requiring a license or permit to purchase any gun or ammunition
Increasing tax ammunition sales
"While we respect the rights of gun owners and we accept the Second Amendment as the law of the land," said Executive Director of Connecticut Against Gun Violence Ron Pinciaro. "We are also mindful of what Supreme Court Justice Scalia stated in the syllabus of the Supreme Court's brief on the issue: 'It is not a right to keep and carry any weapon whatsoever, in any manner whatsoever and for whatever purpose.'"
The nonprofit will hold a Valentine's Day rally at the state Capitol in Hartford where members will ask for changes to gun laws.
"Legislative leadership in Hartford has indicated that there is a bipartisan mood that will result in smart and effective improvement to gun safety measures. CAGV looks forward to working with the elected officials to reach that goal," said Connecticut Against Gun Violence Board President Marty Isaac. "It's time the needs of the people come before the needs of the NRA leadership."
Connecticut already has a ban on assault weapons. State Sen. John McKinney, whose district includes Newtown, said he feels heat will come from some current gun owners.
"The issue of no exemptions for existing guns or magazines out there already is one that will be very controversial and it's something we need to take seriously," McKinney said.
State lawmakers told Eyewitness News that they are also looking to see what comes out of Washington D.C.
Currently, not all states have the same laws on certain guns such as assault weapons. Many lawmakers told Eyewitness News that they would like to see national standards first.

Copyright 2013 WFSB (Meredith Corporation). All rights reserved.